What are coolants? How are they used? What kinds of coolants are there?  In today's article, we will examine the chemicals, applications, and use of coolants on equipment and machinery.
What Are Coolants?
Coolants are a fluid that run continuously across the engine in order to absorb some of the heat and carry it to the radiator where the fluid will cool before rotating into the engine again. In its most fundamental role, coolants are used on combustion engines or any engines that burn fuel to produce power.
The 3 Key Components to Coolants
Coolants are usually made with 3 key components. Water, Glycol, and an additive usually an inhibitor package.
Water: one of the most abundant substances on the earth. It's inexpensive, and it is one of the most effective heat exchange mediums around. However due to a rather high freezing point, and low boiling point, water by itself cannot complete the task. The engine temperature within combustible engines very quickly reaches the boiling point thus meaning that water would be ineffective.
Glycol: commonly referred to as anti-freeze (ethylene or propylene glycol) is added to water to both withstand freezing temperatures, as well as increase water's boiling point. With these properties added to water, the proper engine cooling can take place. Ethelyn glycol has superior heat exchanging properties but is far more toxic than propylene glycol. Never mix the 2 glycol groups as it causes errors when measuring freeze points.
Additives: The final ingredient in coolant soup is a chemical inhibitor. This is added to help prevent corrosion in the radiator, water pump, and any other cooling system involved in the process.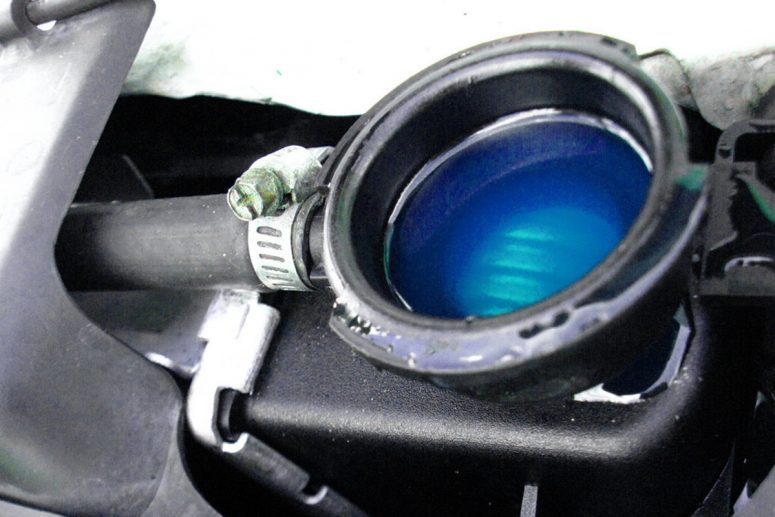 The Different Types of Coolants
Now that you know what goes into coolants and how it keeps your systems within manageable temperatures, we can begin to learn about different types of coolants.
Conventional Low-silicate
This is commonly called Antifreeze. This bright green fluorescent liquid contains silicates, a compound salt that contains both Silicon and oxygen molecules that work as resistors within the fluid to increase the boiling point and lower the freezing point. The silicate also coats the metallic parts of your machine inhibiting corrosion within the system.
Conventional Low-silicate Example: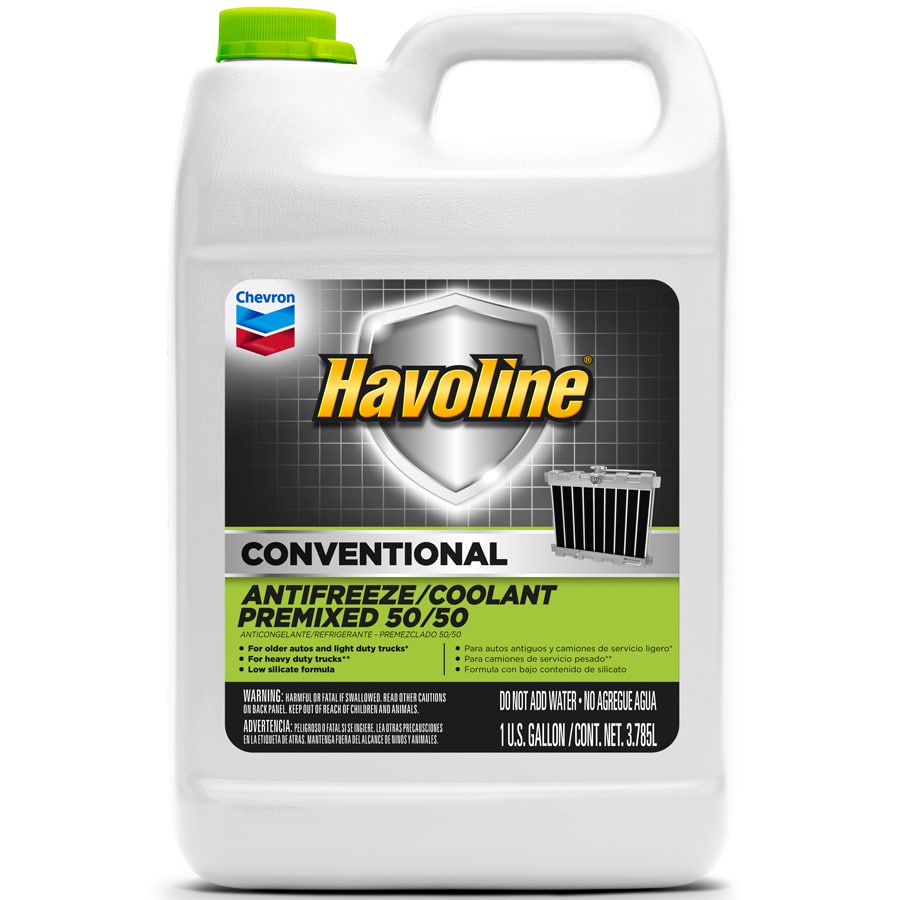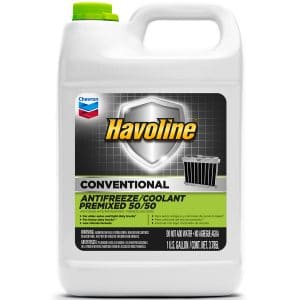 Havoline Conventional Antifreeze 50/50 
Havoline® Conventional Antifreeze/Coolants are low silicate, ethylene glycol-based multi-purpose coolants, available as concentrates or 50/50 pre-diluted products, designed for use in automotive engines where silicates are needed and with SCA addition in heavy-duty diesel engines.
Service Life — 2 years or 50,000 miles (80,500 km) in automotive service or up to 250,000 miles
Protection — Provides excellent protection to automotive cooling system components including aluminum.
Wide temperature application – Protects against winter freeze up and minimizes the chances of summer boil over.
Antifoam properties – Excellent antifoam package minimizes foaming potential.
Fully-formulated Coolant
A more specialized form of coolant that uses SCA's or supplemental coolant additives which are by design used to protect the quality of your cylinders from a condition known as cavitation an issue where the high pressure within the chamber causes perforation over time. In order to maintain an effective level of protection against cavitation, SCA's must be periodically added to the mixture. This addition of solid additives to the mixture can result in some seal and vane damage and wear over long periods of time.
 Fully-formulated Coolant Example: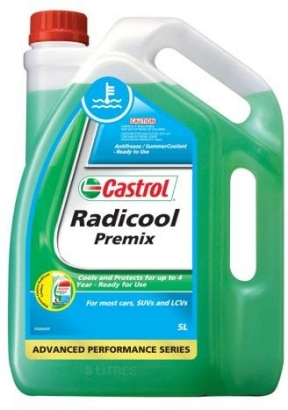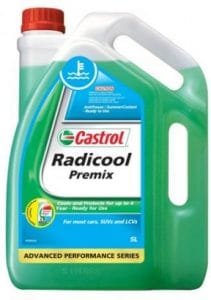 Castrol Radicool Premix
A ready to use a coolant formulated using mono-ethylene glycol and selected additives, free from nitrite, amine and phosphate inhibitors. It uses hybrid technology for the modern performance engines of cars and trucks.
Contains no nitrites, amines or phosphates

Effective engine cooling without boiling

Protection against corrosion in the alloys used in the cooling systems of modern vehicles

Protection against freezing depending on the concentration

Protection against cavitation corrosion
Extended Life Coolants (ELC)
Used primarily for heavy-duty vehicles, ELC's are synthesized with properties that prevent liner cavitation (see fully formulated coolants). These coolants can be nitrated(nitrated organic additive technology NOAT) to improve fluid flow, or nitrate-free (Organic additive technology, OAT) depending on the OEM requirements. SCA's are not required but inhibitor additives can be added to extend the lifetime of the coolant. ELC's do not contain solid additives extending the life of your pump.
Extended Life Coolant Example: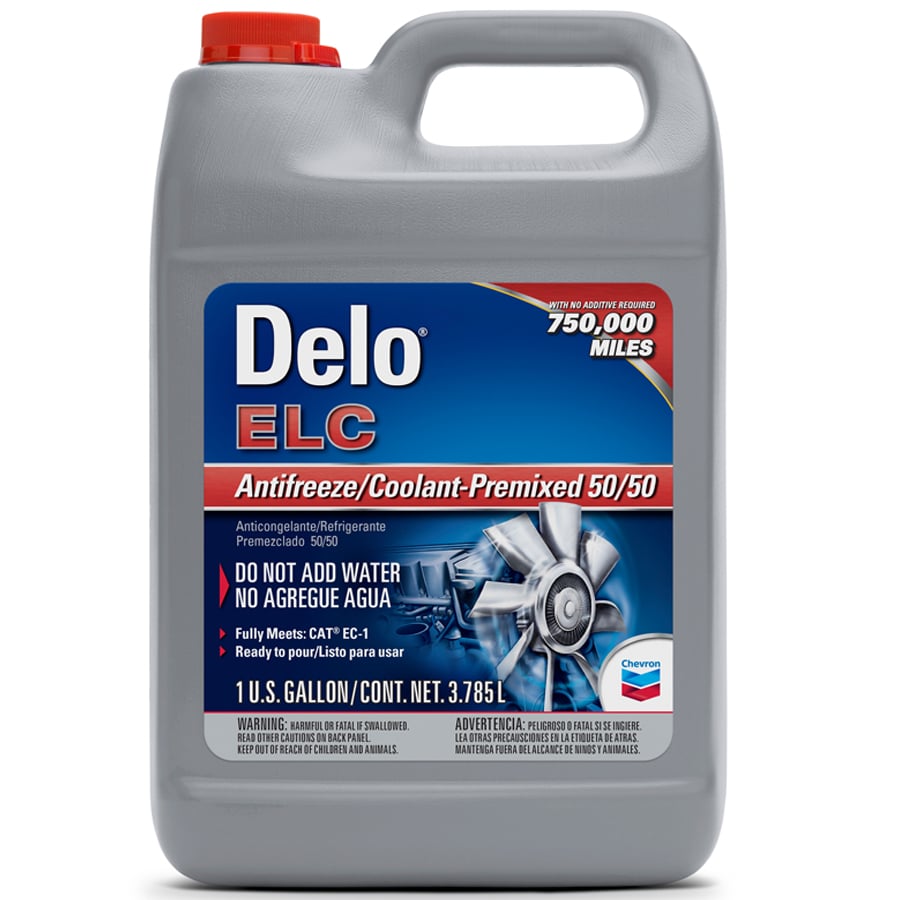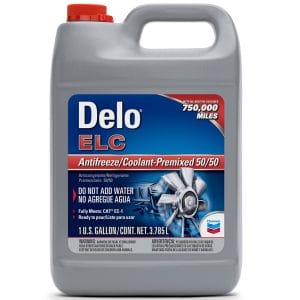 Delo ELC Advanced Antifreeze/Coolant products have a patented formulation for protection and compatibility with flux brazing residue present from the manufacturing process of today's aluminum heat exchangers. there are no solid additives included in ELCs, thus extend their pump life.
Long Service Life: Service life of 1,000,000/1,600,000 km on-road use / 20,000 hours off-highway use, or 8 years
Optimal Cooling System Operation – No gel or deposit formation! Silicates and other SCA deposits can reduce heat transfer and increase downtime due to overheating.
Environmentally Friendly: Biodegradable in its unused form. Phosphate, borate, silicate, 2EHA, and amine-free
Can You Combine Coolants?
While the topic of combining coolants has varying opinions and views, it is generally believed that coolants "can" be mixed if needed for an emergency fill-up, but "should" be used without combining properties as to get the premium effect that the coolant was designed for.
Make sure that you are always using the right coolant for the right job! SC Fuels offers a full line of coolants from name brands such as Chevron, and Valvoline. Call today to learn how SC Fuels can save you on fuel, lubes, and coolants!
Thank you for reading
Sincerely,
The SC Fuels Team