It is no exaggeration to say that diesel fuel is the axis on which American transportation turns. It is used to power the trucks that haul goods from store to store, the farm equipment used to maintain fields, the construction equipment that builds our office buildings and homes, and much more. Diesel fuel keeps America running, both literally and figuratively.
However, since diesel fuel is such a commonly used resource, you may not realize that there are different types. For example, this may be the first time you are hearing of dyed diesel. And even if it is not the first time, you might not understand how it differs from regular diesel or why you should care about which type you use in your vehicles.
Types of Diesel Fuel
Before you can understand the difference between regular diesel and dyed diesel fuel, you need to understand what constitutes "regular" diesel. There are several types of diesel fuel available for public purchase:
Petroleum diesel: When most people hear the word "diesel," there is a good chance petroleum diesel is the first type that comes to mind. This is the most common diesel type and is also known as fossil diesel. Petroleum diesel is derived from distilling crude oil into liquid fuel. It is used to power trucks, trains, buses, boats, planes, and more.
Synthetic diesel: Synthetic diesel is a low-sulfur alternative to petroleum diesel. It can be created from any carbonaceous material, such as coal, natural gas, or biomass. The natural substance is gasified, purified, and transformed into hydrocarbons nearly indistinguishable from those found in standard petroleum fuels. The lower sulfur content reduces emissions, making it a more ecologically friendly fuel choice.
Biodiesel: Biodiesel can be made from vegetable oil, animal fats, or even old restaurant grease. This makes it a renewable fuel source, unlike diesel derived from oil or coal. Most biodiesel is created from soybean, corn, or canola oil. It can be blended with petroleum diesel in varying quantities, although not all machinery can accept diesel with a high concentration of biodiesel in it.
Hydrogenated oils and fats: To create this fuel, triglycerides naturally found in vegetable oil and animal fat are converted into alkanes. This makes the fuel similar to synthetic diesel.
Dimethyl Ether (DME): DME is a synthetically produced, clean-burning, non-toxic fuel with discreet combustion and a high cetane value. Using it as a fuel source creates less carbon emissions than traditional petroleum diesel.
While all types of diesel can be used on-road — meaning in transportation vehicles — not every instance of the fuel is deemed road-safe. Whether or not diesel fuels can be used on-road or off-road depends on their sulfur content and how they're taxed.
What is Dyed Diesel?
Originally, all diesel fuel sold in the US was undyed. But with changing standards for acceptable sulfur levels in diesel fuel, a solution had to be created to separate road-safe fuel from fuel with too much sulfur in it. This solution was simple — just add color.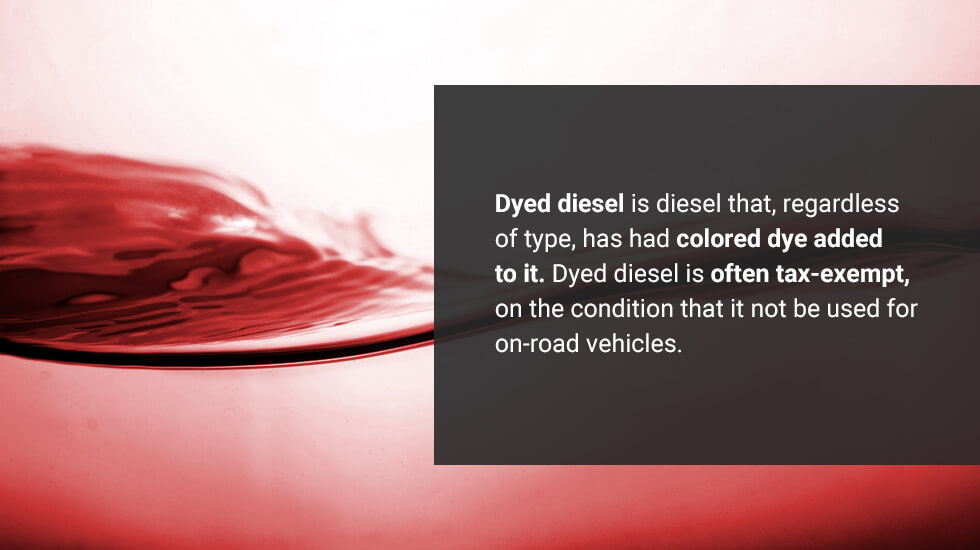 Clear Diesel vs Dyed Diesel
Dyed diesel is diesel that, regardless of type, has had colored dye added to it. There are several different color options, but they all mark the diesel as not usable on public roads. Undyed diesel is referred to as "clear" diesel in comparison. Dyed diesel is often tax-exempt, on the condition that it not be used for on-road vehicles.
If it cannot be used for mainstream transportation, you may be wondering what dyed diesel can be used for. Dyed diesel can be used in anything that isn't on-road. This means it can be used for farming equipment, construction equipment, power generators, aviation and marine vehicles like planes and boats, and even carnival rides that need diesel to operate. Basically, so long as it isn't on-road, dyed diesel can be used in anything that needs diesel and isn't specifically prohibited from using it.
Types of Dyed Diesel
Just like with regular diesel, there are several different types of dyed diesel. The dye color used indicates what the diesel can be used for:
Red: Red-dyed diesel, or simply red diesel, is the most common type of dyed diesel. It contains a red dye that is so highly visible that it can be detected even when it does not alter the diesel's color. Red diesel can only be legally used in off-road vehicles and machinery, due to it's relatively high sulfur content.
Blue: Blue-dyed diesel is similar to red-dyed, except it's not available for public purchase. Blue-dyed diesel is specifically used for government vehicles and is marked with blue dye as an indicator.
Green: Green diesel is the only "dyed" diesel that isn't dyed at all. The green in the name refers to it being a more ecologically friendly diesel. The diesel itself is clear.
Dyed Diesel Regulations
Because dyed diesel is tax-exempt and cheaper than regular diesel, it is heavily regulated to ensure that it is used properly. According to US law, red-dyed diesel can only be legally used in off-road vehicles and equipment, such as farming or construction equipment. The red dye in the diesel is so easily detected that even if the diesel itself doesn't appear red, a standard testing kit will reveal it.
Government investigators will test fuel at safety check stations, weigh stations, agricultural shows, or other places where diesel-burning vehicles congregate. If you're found using dyed diesel in an on-road vehicle, your punishment can range from a hefty fine to jail time. Fines can run from $100 to over $1,000 a gallon. Distributors of red diesel cannot sell to those who they know will use the diesel illegally. What's more, if red diesel is not properly reported when used, you cannot claim the associated tax exemptions.
That being said, there are select instances where red diesel can be used on-road. In situations where the government has declared a state of emergency, red diesel can be used for on-road travel. You can also use it if the fuel supply has been disrupted by a natural disaster.
Contact SC Fuels for Unbranded Wholesale Fuel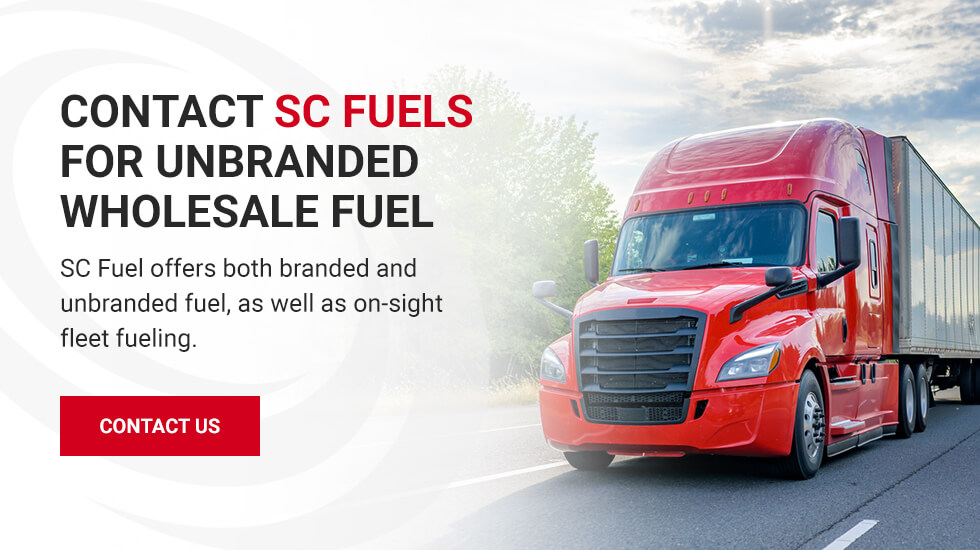 Diesel is an important cornerstone in American fuel consumption. Whether it be standard petroleum diesel, biodiesel, or other types, America runs on diesel both figuratively and literally. However, it's important to use the right type of diesel, whether you're driving a truck or operating a tractor.
If you need quality diesel for your machines, consider SC Fuels. SC Fuel offers both branded and unbranded fuel, as well as on-sight fleet fueling. Our unleaded and diesel fuel brands are among the finest in the country, and we serve both public and private sectors. Contact us today for a fuel quote and let us set you on the road to higher productivity.