Modern equipment maintenance relies on the lubrication and protection grease offers. Different types of grease work best for other purposes — for that reason, it is necessary to understand the grease color-coding system and what each color means.
If you want your machinery to operate at peak performance with extended life spans, you will have to apply the right type of grease and do so regularly. Learn what various grease colors mean and which you should choose for your application.
What is Grease?
Grease is made from oil and thickened with soap or other emulsifying agents, providing lubrication to protect and seal equipment components. Its solid or semisolid composure makes it ideal for applications where lubricating oil would not stay in place. By creating a barrier between moving surfaces, grease reduces friction to:
Reducing friction and tear: Grease allows you to extend equipment life spans by lowering friction and cutting down on wear and tear. Ungreased parts rubbing against each other can lead to mechanical failure.
Protect against contaminants: Grease also guards a surface against contaminants like water, dust, and small particles. The protection can keep parts functional longer.
Prevent corrosion: Protection against the elements helps preserve the surface, preventing corrosion that can cause parts to deteriorate.
Resist leakage: Grease can also help to prevent leakage. As a sealant, grease keeps desired materials in and undesired materials out.
All greases contain two major components — a base oil for lubrication, which determines viscosity or stickiness, and a thickener for keeping the oil in place. Each type of grease has unique qualities, such as temperature limits and pressure toleration. Before choosing what kind of grease to use, you should be familiar with your options.
Types of Grease
Different types of grease offer varying load-carrying capacities, water resistance, mechanical stability, and other characteristics. Although color provides no technical benefits, grease manufacturers use color to distinguish grease types. It is vital to understand the different colors of grease and what they signify. While color-coding systems vary between different grease manufacturers, certain standards are common across the industry. Here are some common grease color meanings.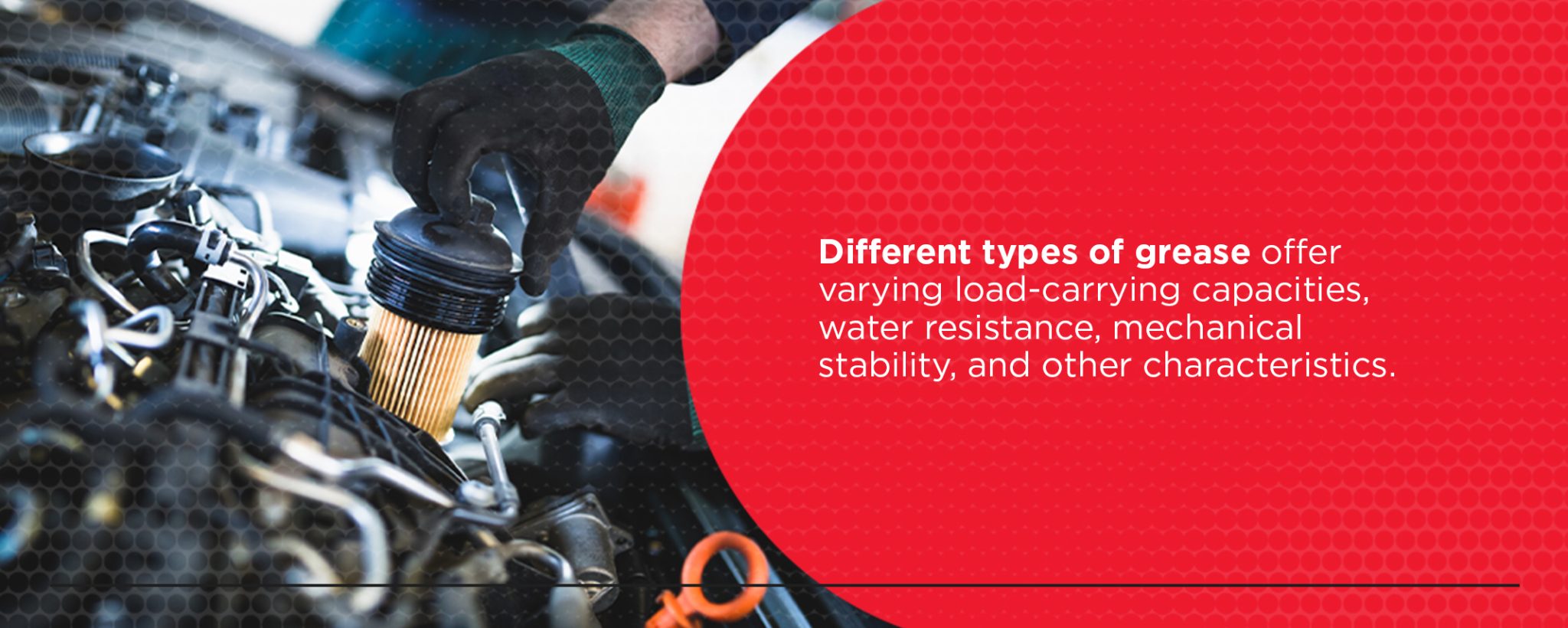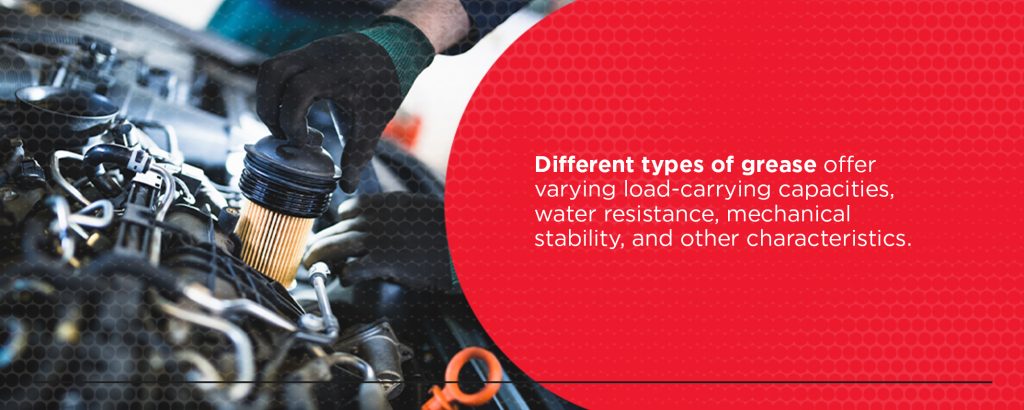 Dark Blue Grease
Dark blue grease tends to be multifunctional, and it is made from a conventional base stock. You can use dark blue grease for any antifriction and plain bearing needs. This type of grease will generally have a wide acceptable temperature range and allow for long periods between re-lubrication.
Red Grease
Red greases are also multipurpose and tend to be synthetic. The color red could indicate a higher temperature threshold, but that is not always the case. Red grease will provide lubrication and protection to mechanical equipment and parts. Red and dark blue greases are often interchangeable, but checking specifications and intended uses is a good idea.
Gray or Black Grease
Gray and black greases often contain molybdenum disulfide graphite, often abbreviated as "moly." This additive makes them ideal for harsh or severe conditions. Most original equipment manufacturers (OEMs) of off-road equipment recommend moly grease for their parts and products. It can meet the high-level demands of machines like excavators, skid steers, and cranes.
Undyed or White Grease
Undyed or white grease typically indicates common in food-grade safety. You can use white or undyed grease on food processing or packaging machinery. If incidental contact with food is possible, the grease must be food-grade.
Does Grease Color Impact Lubrication?
While color does not impact lubricating abilities, manufacturers may use color-coding to denote lubrication. Grease is designed to hold lubricants in place, and the lubricants contained in the mixture will determine how it functions. Look for the type of oil a grease contains —mineral oil or synthetic fluid — to learn about its lubricating capabilities.
Does Grease Color Impact Performance?
Grease color can denote performance in specific applications. For instance, the moly component of gray grease allows it to function in severe conditions. Again, the color itself is usually not relevant to performance, but color-coding might indicate. Several factors can impact grease's performance, including the:
Base oil type.
Thickener type.
Viscosity.
Additives.
Working conditions.
Be sure to pay attention to these specifications when choosing which grease to use. Although color might not impact how well grease works, changing colors can indicate a decline in performance. Make sure you pay attention to grease coloration during use and note any changes.
Does the Color of Grease Change?
The color of grease can change during prolonged use. Grease may lose its color or grow darker. Shifts in colors generally occur due to chemical processes or exposure to the elements. Some common factors impacting grease coloration include: 
Thermal degradation: High temperatures sometimes cause grease color to lose its vibrance. A heavily pigmented grease will become more pastel and less vivid with exposure to high heat.
Oxidation: Oxidation, on the other hand, causes grease to blacken. Too much exposure to oxygen can make grease degrade and darken in color.
Contamination: If grease starts to look milky in color, water contamination could be the culprit.
Pay attention to the color of the grease on your machinery. If colors start to change, you may need to replace grease coatings or choose a different type of grease for the application at hand. Look for signs of thermal degradation, oxidation, and contamination, each of which will cause the grease to change in appearance. Lost vibrancy, blackening and a milky coloration are all indications of grease reaching the end of its usable life span.
Choose SC Fuels for Lubricant Supply in California
Picking the right grease lubricant for your application is a vital decision that impacts performance, equipment life span, and safety. For instance, machinery that may come in contact with food requires food-grade white or undyed grease. On the other hand, off-road vehicles work best with gray greases with moly additives. Other applications might require a versatile dark blue or red grease option. While the color itself does not affect performance, color coding provides a useful system for determining grease purposes and characteristics.
If you are searching for the right lubricant, choose SC Fuels as your single choice lubricant supplier in California. SC Fuels is a reliable, cost-competitive supplier of petroleum products, including fuels and lubricants. As a third-generation family-owned company, SC Fuels has been providing quality products since 1930. For expert information and the best lubricants, pick SC Fuels. Browse our lubricant brands and options today.