The world is starting to shift, and we are constantly looking for new ways to help the environment and stop climate change. Fossil fuels are a non-renewable resource, so we must find alternatives to power our infrastructure. Renewable fuels are an excellent solution to help consumers power their vehicles.
Renewable fuel is slowly gaining popularity as more people become eco-conscious. Learn more about renewable fuel, its benefits, and how you can get it below.
What Is Renewable Fuel?
As the name implies, renewable fuels come from raw, sustainable sources. These fuels often consist of animal fat, vegetable oils, and sugarcane and can replace traditional diesel. Part of the reason people use renewable fuels is to help reduce their carbon emissions, which is why the federal government has created the Renewable Fuel Standard to help companies shift to renewable fuels for transportation.
The RFS policy requires companies to replace or reduce the amount of petroleum they use with renewable fuel. Renewable fuel can cut carbon emissions globally, and more companies and government entities are looking to switch from petroleum-based fuels.
Besides reducing carbon emissions, people are using renewable fuels because most diesel refineries are converting to renewable operations. Petroleum fuels include non-sustainable fossil fuels like oil and gas, and the supply of these is finite. Renewable energies offer an excellent alternative that also benefits the environment.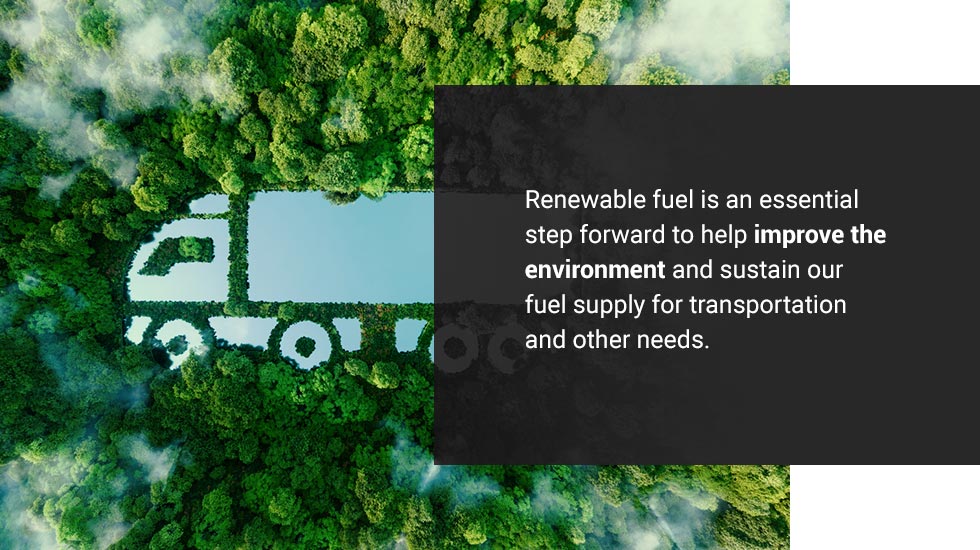 Why Go Renewable?
Renewable fuel is an essential step forward to help improve the environment and sustain our fuel supply for transportation and other needs. Consider the following benefits when deciding whether you should switch to renewable fuel.
Reduced costs: Renewable fuels are more affordable than traditional petroleum fuels due to their depleting availability. Saving money is especially vital right now, as inflation and the price of living increase.
Environmentally friendly: One of the primary benefits of switching to renewable fuels is that they significantly reduce carbon emissions. Carbon emissions are responsible for climate change, which causes drastic weather changes each year. As the world looks for new ways to reduce these emissions and help the environment, the U.S. biofuels industry flourishes as one of the solutions. More consumers are also looking to become more eco-conscious and are more likely to work with companies and brands actively trying to reduce their emissions.
American produced: America is looking for more ways to become energy-independent, and many domestic companies produce renewable fuels. Rather than relying on imports from other countries, you can turn to American businesses for your fuel needs. The production of renewable fuels in the states also increases the number of available jobs, helping people from all walks of life find work.
Boosted rural economies: Some renewable fuels are derived from sugarcane, corn, and other agricultural byproducts, predominantly produced in rural areas. Renewable fuel suppliers work with locals in these areas to find these resources, which boosts rural economies and allows these areas to flourish. Growing local economies also appeal to consumers, which can help increase interest in your business.
Versatility: Many renewable fuels can be "drop-in," meaning you can use them with current equipment without any modifications or upgrades. Renewable fuels can be the solution if you're looking for new stationary fuel for backup power or to supply your fleet.
More companies are turning to renewable fuels every day, and it's not surprising after considering the benefits above. As the world shifts to cleaner resources for the sake of the environment, more companies will start to adopt renewable fuels. Get ahead of the curve and switch now to see how your business can thrive using renewable fuels!
How to Get Renewable Fuel
If you're interested in renewable fuels as a buyer or seller, follow the steps below.
Consumers
Renewable fuel can serve many purposes and help take your business to the next level, all while helping save the planet. If you're interested in buying renewable fuel, you have a few ethanol blends to choose from, including:
E10
E15
E85, or flex fuel
The number corresponds to how much ethanol is in each blend. For example, E10 has 10% ethanol and 90% gasoline. All vehicles today can run on E10, while E85 is for flex-fuel vehicles. You can save significantly by switching to renewable fuel to power your fleet. You can find these options at many gas stations, including Pilot, 76, Marathon, Shell, Sinclair, and Valero.
Sellers
Selling renewable fuels can help increase your margins and improve customer satisfaction as more consumers look for ways to help the environment. All vehicles can run on E10, and most can run on E15, making it accessible to everyone.
If you're a station owner looking to sell renewable fuel, SC Fuels can help. We have in-depth knowledge of the Renewable Fuels Association handbook that outlines the requirements retailers must meet before storing and selling renewable fuel.
When you work with us, you can brand your station as one of our partners, and we'll put you on the path to start selling renewable fuels. Whether you're a small company or a Fortune 500 business, contact us to become a partner and start reaping the rewards.
Renewable Fuel FAQs
Since renewable fuels are relatively new to the market, some people still have lingering questions. Below, we'll provide answers to help you understand these options.
1. How Do We Make Renewable Fuel?
The U.S. biofuels industry has come a long way since its creation, so how we make renewable fuels has also changed. In refineries, state-of-the-art technology converts materials into renewable fuels using one of these three techniques.
Dry mill ethanol process
Wet mill ethanol process
Ethanol from cellulosic biomass
The difference between these methods is how the refinery handles things like grain. Dry milling is currently the prevalent approach, with over 90% of the ethanol produced this way. The primary difference is what happens to the grain at the beginning of the process.
2. Where Does Ethanol Come From?
Now that you know how refineries make renewable fuel, you might wonder where it comes from. Most of these refineries are in the Midwest, including states such as Kansas, Iowa, and Illinois. Some states are starting to expand the number of refineries, including Georgia, Ohio, and California. As more consumers become interested in renewable fuels, the number of refineries should increase correspondingly.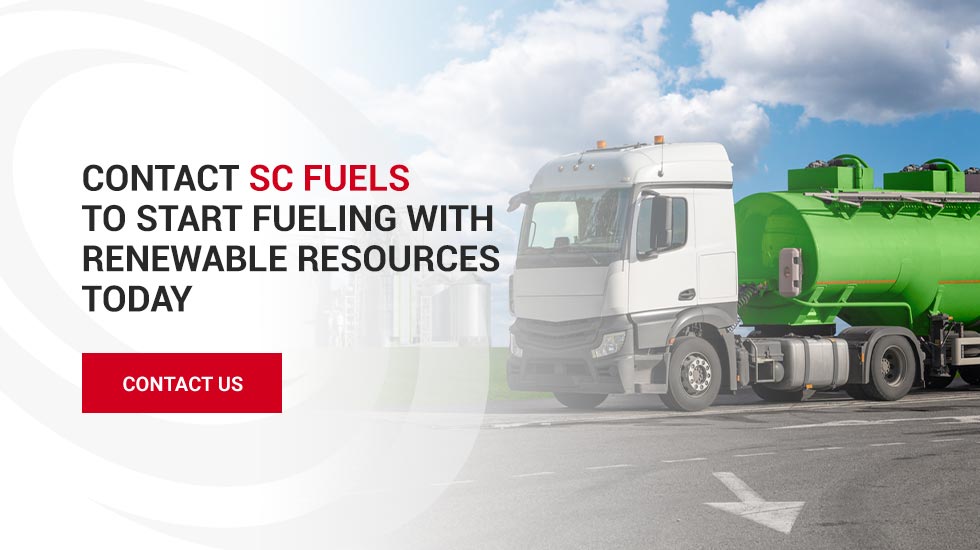 Contact SC Fuels to Start Fueling With Renewable Resources Today
Renewable fuels can change the way you do business, helping you stand out as an eco-conscious brand that supports American refineries and jobs. You can also save on fuel costs by making the switch. If renewable fuel seems like the right fit for your business, SC Fuels is here for you.
We serve a broad area, including the Western United States, the Midwest, California, and the Gulf Coast. We can assist you with fuel deliveries, and you can buy in bulk to ensure you have plenty of fuel for your fleet. Contact us today if you're ready to go green and switch to renewable fuel!