If you've come across the term "DEF" and wondered what it is or had any questions about its use, you're in the right place. DEF, or diesel exhaust fluid, is a ubiquitous component of almost every type of diesel-powered engine used in the United States. It's vital to understand the role it plays in the operation of your diesel equipment. Without that knowledge, you could end up with an engine that does not start up after your next pit stop. Fortunately, modern technologies have made DEF systems pretty user-friendly.
What Is DEF?
DEF is made up of deionized water and urea. These substances help turn nitrous oxide — a harmful type of emission from diesel engines — into water and nitrogen, two everyday substances that make up the air we breathe. Essentially, DEF is a key ingredient in starting the chemical reaction that keeps dangerous gases produced during diesel engine operation out of our environment.
This fluid is an essential part of ensuring that heavy-duty trucks and machinery operate within federal emissions standards set by the Environmental Protection Agency (EPA). Those requirements mean that DEF is a widespread substance used with nearly every diesel engine out there. DEF is the reducing agent in the chemical reaction that occurs in selective catalytic reduction (SCR) systems.
What Is Selective Catalytic Reduction?
Another common acronym you will find surrounding DEF is SCR, or selective catalytic reduction. This emissions control technology is what uses DEF and allows it to interact with the engine's exhaust. It injects the DEF through a catalyst and into the exhaust stream, where the DEF starts a chemical reaction, turning the nitrogen oxide into nitrogen, water, and some carbon dioxide.
Then, it gets sent out through the tailpipe and into the air, where it is safe to breathe in and does not harm our environment the way nitrogen oxide would. Nitrogen oxide is a pollutant that causes problems such as acid rain, haze, nutrient pollution, and human health issues, particularly respiratory symptoms.
The SCR system sets up an oxidizing atmosphere perfect for a nitrogen oxide reduction reaction. It is an affordable, fuel-efficient, and powerful technology in the fight against high emissions and environmental damage. SCR can reduce nitrogen oxide emissions by up to 90%, along with other pollutants. Aside from emissions reductions, SCR and DEF can also provide fuel efficiency, with many drivers reporting gains of 3-4%.
What Is DEF Used For?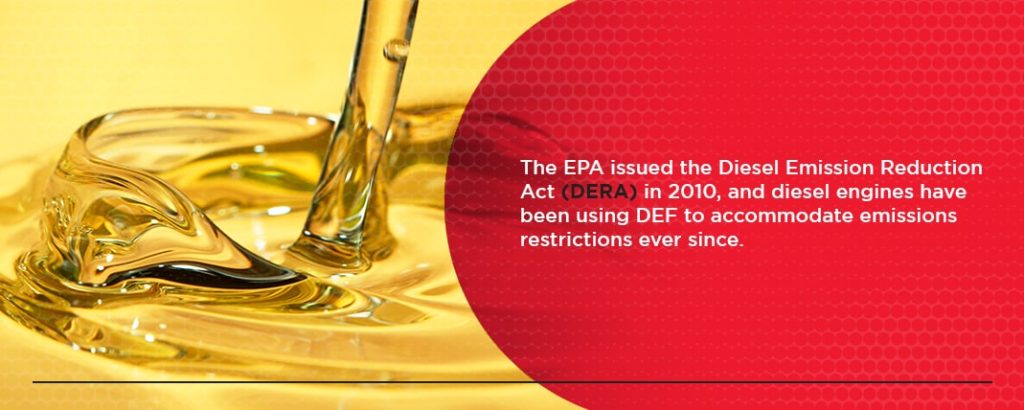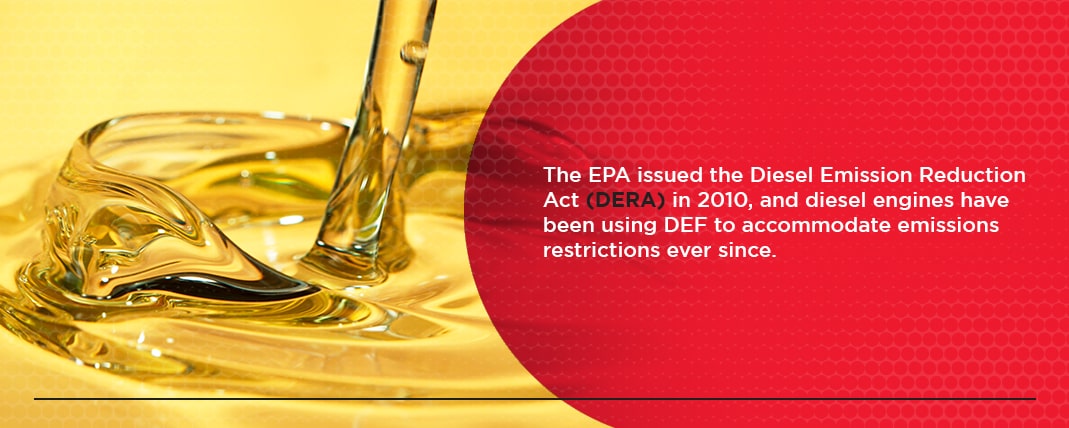 The EPA issued the Diesel Emission Reduction Act (DERA) in 2010, and diesel engines have been using DEF to accommodate emissions restrictions ever since. As we become more conscious of climate change and the need to keep emissions as low as possible, the demand for DEF is likely to increase. 
Technologies related to this fluid, such as built-in vehicle monitoring systems, are also likely to become more popular. DEF and SCR systems have been immensely valuable in reducing the significant emissions that come from large semi-trucks that spend all day spitting out dangerous substances.
Of course, DEF is used in much more than diesel trucks — it is also used in many types of machinery and marine and farm equipment. As emissions standards have increased, off-road vehicles, generators, and many other engines began to use DEF. There are even regular consumer vehicles with diesel engines that require DEF.
How Much DEF Will You Need?
The amount of DEF needed will vary by engine and tank size. Typically, you will need 1 gallon of DEF for every 200 gallons of fuel. Note that you should never let the DEF tote empty completely. Refill it when there are a few inches left.
DEF FAQs
Using DEF is not always straightforward. Here are a few answers to commonly asked questions about it.
1. Is DEF the Same as AdBlue?
AdBlue is simply a brand name of DEF registered in Germany. It has become a very popular and widely recognized product that many people use interchangeably with DEF. Despite the name, AdBlue is not actually blue and is colorless.
2. What Happens When You Run out of DEF?
If you were to run out of DEF, most systems would not allow you to start the engine. Take diesel trucks, for instance. If they run out of DEF, the trucks won't start until the fluid is refilled. 
While that might sound concerning, as though it could leave you on the side of the road, all modern diesel vehicles will give you ample warning before the DEF runs out. The folks at Car and Driver found this out when they pushed a Range Rover to deplete its DEF and got plenty of warnings to refill before it got to that point.
Another possibility is that the vehicle will limit your speed. Once DEF is added, it will offer normal speeds again.
3. Can You Substitute Water in for DEF?
No, you cannot put water in the DEF reservoir. The system will identify it as poor quality DEF and will not start up. Even if it did, water does not contain the ingredients needed to convert harmful gases to non-harmful ones. You would be doing a lot of harm to the environment and any efforts toward compliance. 
4. Can a Diesel Engine Run Without DEF?
No, diesel engines won't run without DEF. If you have completely run out, it simply will not start.
5. Where Can I Order DEF?
If you are in a pinch, you can pick up DEF at most fueling stations and auto parts stores, along with some larger big box stores. But these options are best used if you have suddenly run dangerously low on DEF and need some right away.
Alternatively, you can purchase high-quality, cost-effective DEF from a trusted wholesale supplier for regular fill-ups and proactive maintenance practices. In many cases, filling up your DEF alongside your oil change is a great way to ensure it stays at the necessary amount. In the case of a large truck fleet, you may want to keep DEF in each truck for those moments when low-DEF warnings appear.
Purchase DEF From SC Fuels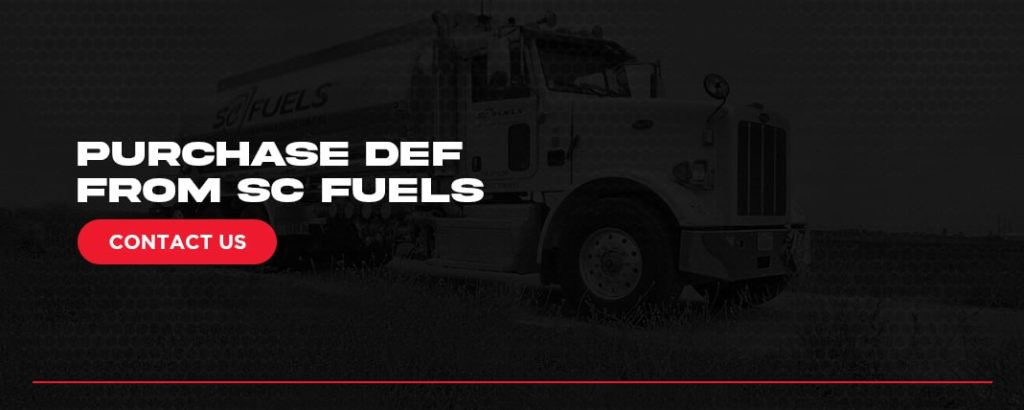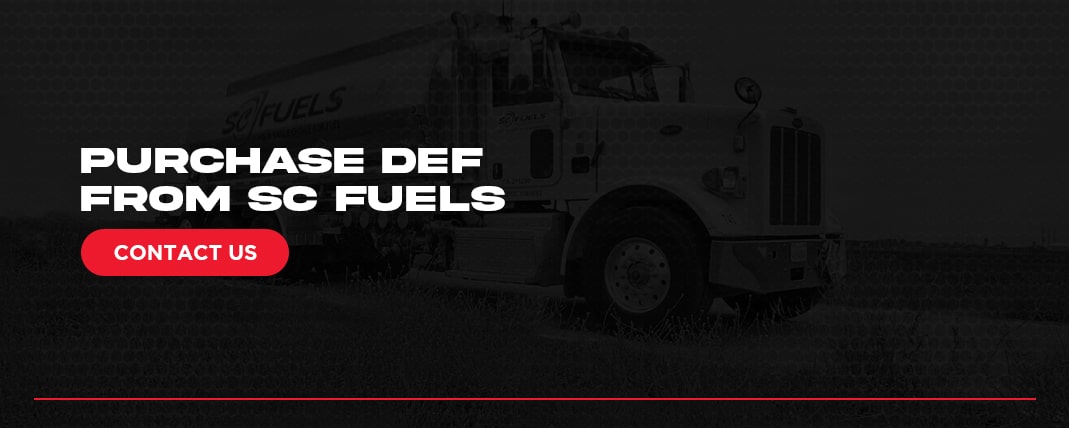 When it's time to buy your DEF, shop SC Fuels. SC Fuels has been in business for over 90 years and now supplies DEF and petroleum products to businesses throughout the U.S. Quality is our priority, and we offer that alongside competitive prices, reliable delivery, and extensive industry experience. Our DEF is available in 1-gallon and 2.5-gallon cases, as well as drums and totes.
To order your next DEF supply, please reach out to one of our experts! Find the number of your sales region or reach out to us online. We are happy to answer any questions you may have on DEF.