You may know that biodiesel is an alternative to diesel fuel, but how does this biofuel compare to its petroleum-based competitor? Biodiesel is a great option for many consumers to consider. Below, we will take a look at both the advantages and potential disadvantages of biodiesel so you can make an informed decision about the best fuel type for your needs.
What Is Biodiesel?
Biodiesel is a replacement fuel for diesel engines. Whereas standard diesel fuel, also called petrodiesel, is made from petroleum, biodiesel is made from biomass oils. These biomass oils might include:
Plant oils, such as soybean, canola, or corn oil
Used cooking oil, also called yellow grease
Animal fat
Algae
In the U.S., soybean oil accounts for the majority of raw materials used to make biodiesel. Biodiesel production involves combining fats and oils with an alcohol like methanol in the presence of a catalyst through a chemical process called transesterification. This process converts the biomass oils into fatty acid methyl esters (FAME). In addition to producing biodiesel, this process also creates the useful coproduct glycerin.
In most cases, relatively small amounts of biodiesel are blended with petroleum diesel. You can tell the ratio of biodiesel in the mixture by the label. For example, a B5 label indicates that 5% of the mixture is biodiesel, and the rest is petrodiesel. Pure biodiesel, labeled B100, is also available and is a sustainable replacement for diesel fuel.
Who Uses Biodiesel?
In terms of countries, the U.S. consumes more biodiesel than any other nation by a substantial margin. In terms of industry, as with diesel fuel, biodiesel is mostly associated with the transportation industry. Other industries use biodiesel, as well, since its applications are far-reaching. For example, biodiesel can be used for generating backup power, providing heat, cleaning metal, and other uses. Biodiesel fuel has gained favor with a variety of consumers because of its versatility and environmental benefits.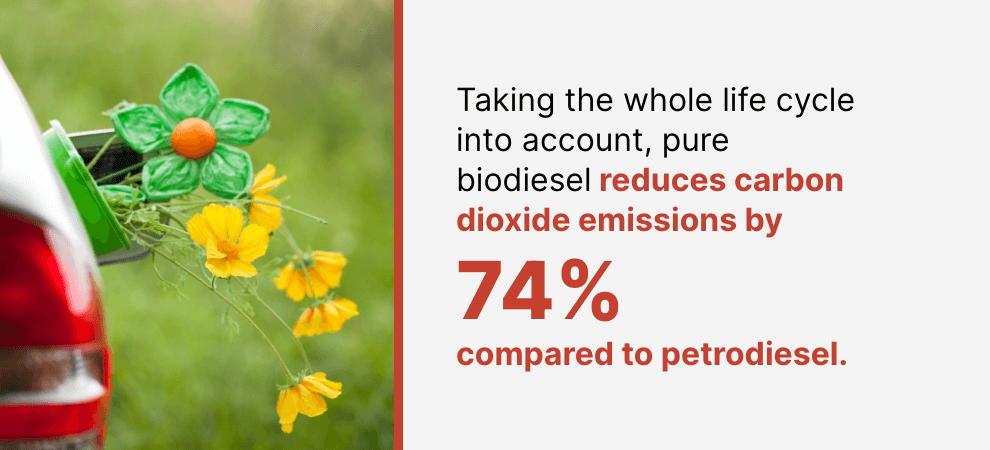 Pros of Biodiesel Fuel
Biodiesel has gained popularity over the years because it offers some advantages over petroleum diesel fuel. Some of the reasons to consider choosing biodiesel over petrodiesel include:
Reduced pollution: Another of biodiesel's environmental benefits is its ability to reduce vehicle tailpipe emissions. Compared to diesel fuel, an engine burning biodiesel will emit fewer pollutants, including hydrocarbons, carbon monoxide, and particulate matter. While carbon dioxide emissions are similar to petroleum diesel, with biodiesel, these emissions are offset by the carbon dioxide absorbed through growing plants like soybeans in the production process. Taking the whole life cycle into account, pure biodiesel fuel reduces carbon dioxide emissions by 74% compared to petrodiesel.
Superior performance: Biodiesel offers superior performance over petrodiesel since it has a higher cetane rating and added lubricity. Biodiesel's superior cetane rating means an easier engine startup. Higher lubricity means less wear and tear on your engine over time. Even when only a small amount of biodiesel is blended with petrodiesel, it can increase the fuel's lubricity.
Renewability: Fossil fuels, including petrodiesel, are non-renewable resources since they are the product of natural processes that have taken millions of years. In contrast, biodiesel is a renewable fuel since we can continually produce more plants like corn and soybeans needed to create it. Biodiesel is then a more sustainable option, which may become more crucial when fossil fuels are in short supply. Even now, biofuels can help lower our dependence on imported fuel.
Safety: When used correctly in your engine, both diesel fuel and biodiesel are perfectly safe. If spilled or otherwise released to the environment, there is a major difference between the two. Pure biodiesel will not cause nearly as much damage as petroleum-based diesel in these instances. The biofuel is far less combustible with a flashpoint above 130 degrees Celsius or 266 degrees Fahrenheit, compared to 52 degrees Celsius or 125.6 degrees Fahrenheit for petroleum diesel. Biodiesel is then safer to store and handle.
Cons of Biodiesel Fuel
Considering the benefits of biodiesel, you may wonder why anyone would still use diesel fuel, but petrodiesel still remains the standard choice for many consumers. And petrodiesel offers some advantages of its own over biodiesel. Some considerations to make with biodiesel include its:
Necessary storage conditions: Consider biodiesel's more particular needs when it comes to storage conditions. Biodiesel must remain in the right temperature range at all times. If it is too warm, it could grow mold since this fuel is made from biological material. If it gets too cold, it can gel up. This consideration also means biodiesel's performance is not as good in cold conditions. Biodiesel fuel can also thicken to a gel if it is exposed to oxygen for too long.
Deposits in engines: We mentioned that biodiesel offers higher lubricity, and this is largely a positive trait since it reduces wear. But note that higher lubricity can also lead to more deposits in a fuel tank and pipes, which can create clogs. Fortunately, you can combat this problem by replacing fuel filters more frequently when you are using biodiesel.
Can Biodiesel Replace Diesel Fuel?
Biodiesel is a suitable replacement for diesel. That means, if you have a diesel fuel engine, you can switch over to biodiesel at any time. If you are unsure of whether this is the right move for your engine, you should consult your manufacturer. Many manufacturers simply recommend you perform routine maintenance tasks, like changing filters, twice as often when you are using biodiesel compared to when you are using diesel fuel.
Another essential difference is how you store biodiesel. Even though biodiesel is a replacement for diesel, its storage needs are different. Storage is mainly a concern if fuel would remain in your engine for long intervals. In these cases, you may need to siphon out the biodiesel before storing the engine or use a fuel stabilizer.
Biodiesel vs. Diesel: The Bottom Line
Both petrodiesel and biodiesel are valid options to consider. If you are concerned about your environmental footprint and want a more eco-friendly option, then biodiesel is an excellent alternative to petrodiesel.
You can get renewable diesel fuels delivered to you by partnering with SC Fuels. As a family-owned fuel distributor that has been in the industry for close to a century, SC Fuels offers an unmatched experience that includes affordability and reliability. Learn more about our renewable and biodiesel fuel delivery service and contact us today to discuss the best fuel delivery solution for your needs.