As many industries look to invest in environmentally-friendly solutions, renewable diesel and biodiesel have emerged as more sustainable fuel options than traditional petroleum diesel. Since fossil fuels are a nonrenewable resource, organizations are looking to these renewable diesels as alternatives to traditional fuels.
Biodiesel and renewable diesel fuels make your operation more environmentally sustainable. But their different production processes and other features mean you need to find the right fuel for your operation. Comparing renewable vs. biodiesel fuels will help you find the best fuel for you so you enjoy all of the maximum production and cost benefits of using one.
Renewable vs. Biodiesel
When comparing renewable vs. biodiesel, production is the main factor that separates them. These fuels are made from identical materials — what changes them is their refining process and their ability to handle cold weather.
Biodiesel is produced through transesterification, where organic oils and fats are converted into fatty acid alkyl esters using catalysts and alcohols. Renewable diesel, however, uses a hydrotreating process that parallels crude oil refining techniques. This parallel makes it easy to convert sections of or entire crude oil refineries into renewable diesel production operations.
Understanding the differences between biodiesel vs. renewable diesel is essential to find the best product for your operation. The right fuel will improve processes and ensure maximum efficiency without significantly impacting your bottom line. Learning the differences between these renewable fuels helps you know what works with your existing setup and protects you from wasting resources on a fuel that does not suit your needs.
Biodiesel Overview
Biodiesel is a biodegradable, renewable fuel from recycled restaurant grease, animal fats, or vegetable oils. It meets the United States Renewable Fuel Standard, which requires transportation fuel to meet renewable fuel volume standards. When used with petroleum diesel, it helps reduce petroleum usage while maintaining fuel efficiency. It is highly adaptable and maximizes fuel usage while lowering total fuel costs.
Consider the benefits and drawbacks of biodiesel to see how it would integrate with your operation.
Benefits of Biodiesel
Substitution: One of the significant biodiesel benefits is its ability to extend or substitute traditional diesel. Using biodiesel allows operations to stretch out their petroleum diesel supply and use less overall. Biodiesel helps prevents fuel shortages.
Green: Biodiesel helps offset carbon emissions. The carbon dioxide produced by using biodiesel is offset by the carbon consumption of soybeans and feedstocks turned into biodiesel.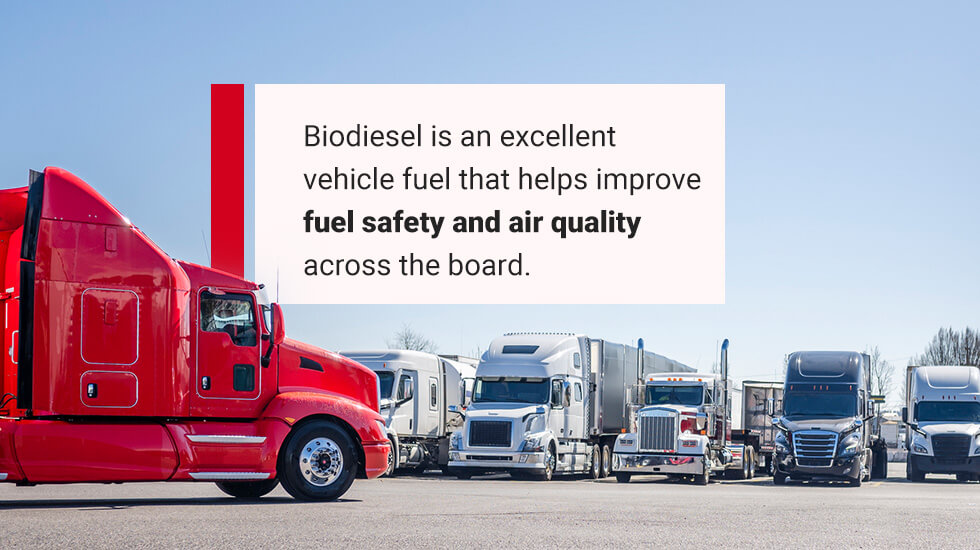 Safer: Biodiesel is also safer than standard diesel. It is less combustible and much safer to use, transport, and store. Biodiesel is an excellent vehicle fuel that helps improve fuel safety and air quality across the board.
Improvedoperations: Biodiesel enhances fuel lubricity, reducing engine wear. Diesel engines rely on lubricity to reduce wear and ensure moving parts run smoothly. Recent legislation has reduced standard diesel lubricity. Adding biodiesel to your diesel improves the lubricity of your diesel fuel, protecting engine components from wear and reducing your repair costs.
Drawbacks of Biodiesel
Biodiesel does have some drawbacks that can affect its use. Biodiesel is an excellent transition fuel for operations working to switch to green energy or lower their petroleum diesel use. Consider these factors when deciding if you want to incorporate biodiesel into your petroleum or renewable diesel use:
Sensitive to cold: While it is less combustible than diesel, biodiesel does not handle colder temperatures well. Biodiesel's composition makes it gel during cold weather. Additionally, it requires separate storage and handling to ensure its quality — oxidation, contact with water, or microbial activity can all degrade biodiesel's quality.
Energy-intensive: Overall, producing biodiesel is a more energy-intensive process than producing petroleum diesel. It requires growing, feeding, and transporting crops. Transportation requires raw fuel, and biodiesel must be used with a portion of petroleum diesel.
Renewable Diesel Overview
Renewable diesel is another renewable fuel that provides an excellent alternative to traditional diesel. Made with canola or soybean oil, it is carefully processed to be chemically identical to petroleum diesel. This processing lets renewable diesel be substituted for or blended with petroleum.
Consider the benefits and drawbacks of using renewable diesel so you can decide if it is the right fit for you.
Benefits of Renewable Diesel
Renewable diesel has several benefits, making it an excellent green diesel option for many operations. When comparing renewable diesel vs. diesel, renewable diesel performs comparably with fewer environmental consequences.
Flexible: Unlike biodiesel, renewable diesel can act as a drop-in replacement for petroleum diesel. Since it ends the process chemically identical to petroleum, it can be fully or partially substituted for petroleum without issue. Biodiesel must be used with petroleum diesel — it cannot be a complete substitute.
Reduced emissions: Compared to petroleum diesel, renewable diesel reduces carbon and nitrogen oxide emissions. While biodiesel offsets carbon emissions, it can lead to increased nitrogen oxide emissions. Anyone looking to help reduce emissions and maintain efficient fuel standards should consider renewable biodiesel.
Cold-resistant: Renewable diesel has a lower cloud point than biodiesel, so it handles cold temperatures much better. While biodiesel gels at lower temperatures, renewable diesel will resist the cold much better without change.
Durable: The biodiesel process introduces oxygen into the fuel, contributing to its reduced cold-temperature performance. Renewable diesel does not have oxygen introduced during processing. This lack of oxygen makes it less susceptible to cold and culture growth for a more durable fuel.
Drawbacks of Renewable Diesel
There are some renewable diesel problems to consider. Consider these when selecting your fuel to ensure they will not negatively impact your operation:
Controversial: Some of the sources for producing renewable diesel are controversial. The palm oil used in some feedstock for renewable diesel has caused lots of deforestation. Many natural habitats are destroyed to make room for palm crops.
Expensive: Renewable diesel is more expensive than petroleum diesel. Progressing legislation in some states has allowed the purchase of renewable diesel at lower rates.
Factors to Consider Before Buying Biodiesel or Renewable Diesel
When choosing between biodiesel and renewable diesel fuels, you must consider several factors. The best fuel fit will depend on what you are looking for, your budget, and fuel qualities. Keep these factors in mind when deciding on a fuel:
Transportation: Renewable diesel does not require separate transportation — you can use existing pipelines to transport it. Biodiesel needs separate storage and transportation to maintain its quality.
Use: Biodiesel is used with petroleum diesel, not as a substitute. Renewable diesel can be substituted for petroleum diesel and combined with it. Biodiesel is excellent for getting more out of your petroleum diesel without increasing its usage, while renewable diesel is a good solution for replacing diesel entirely.
Environmental: Both fuels reduce carbon emissions and environmental effects. However, some renewable diesel uses palm oil, contributing to deforestation. Additionally, biodiesel can increase nitrogen oxide emissions.
Cost: Renewable diesel vs. biodiesel cost is an essential factor to consider for most operations. Biodiesel is typically less expensive because it is not a complete substitute option like renewable diesel. Biodiesel even costs less than petroleum diesel most times.
Renewable Fuel Blends
Fuel blends offer a more financially-viable solution to many fuel needs. Instead of entirely converting to renewable diesel, you can use renewable fuel blends to invest in more sustainable fuels without the high cost of 100% renewable diesel. Customizing your fuel blend lets you fit renewable fuel to your needs while helping you meet renewable fuel regulations.
Fuel blends like R80B20 are 80% renewable diesel and up to 20% biodiesel. These fuels allow you to invest in renewable diesel while implementing biodiesel to maximize your renewable diesel use. You can save money by investing in these majority-green energy sources. Biodiesel typically reduces costs and improves lubricity, while renewable diesel cuts your emissions and provides a more durable fuel.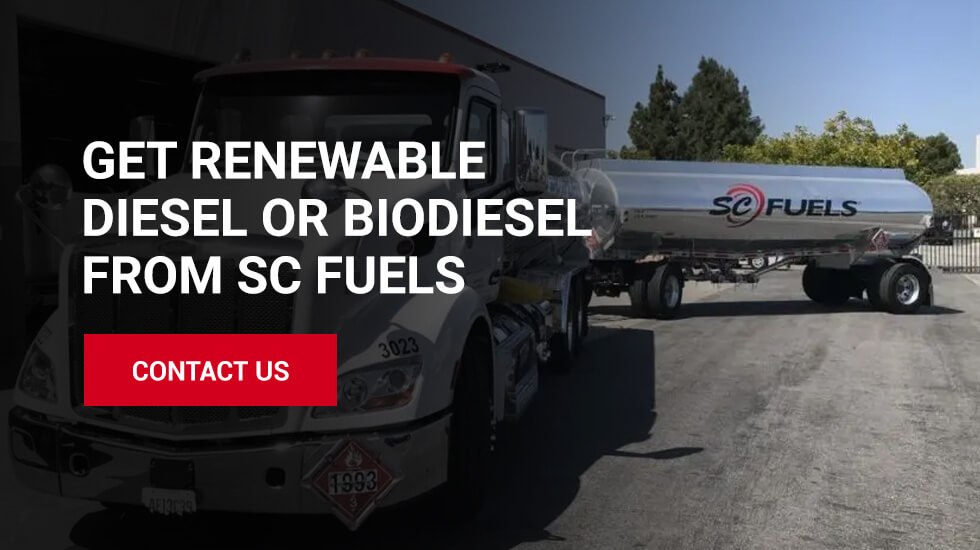 Get Renewable Diesel or Biodiesel from SC Fuels
Investing in renewable fuels not only helps support environmental initiatives but shows your support for American business and employment. Biodiesel and renewable diesel are often American-made, helping support local economies while reducing your environmental footprint. SC Fuels has the stock and resources to help you make the switch and improve your operations with high-quality, renewable fuels.
With fast delivery services, unmatched customer service, and industry-leading prices and quality, trust SC Fuels to provide you with the right fuel for the job. If you are interested in learning more about renewable fuels or our services, contact us online today.