Today's commercial trucking businesses rely on various grades of diesel fuel to power their fleets. This fuel type, particularly diesel fuel,  is widely chosen in the trucking industry because it is more efficient for larger vehicles than gasoline. Additionally, diesel fuel is closely regulated by the U.S. Environmental Protection Agency (EPA), which means fuel types sold throughout the country must meet strict guidelines before they arrive at the pump.
If you drive fleet vehicles or oversee a commercial trucking company, you know there are multiple grades of diesel fuel available in the market. Understanding the differences between these various grades can help in making the right diesel fuel selection for vehicles.
#1 Diesel Fuel (1-D)
Some fleet managers advise drivers to choose the least expensive fuel when operating a vehicle. While this strategy may seem cost-effective initially, understanding the benefits of #1 diesel fuel might lead to a different conclusion. Most often, drivers have access to #1 and #2 diesel fuel on the road, with the key distinguishing factor being the cetane rating.
Higher Cetane Rating
A diesel fuel's cetane rating tells you the ignition quality of the solution — the higher the cetane rating, the easier it is for commercial trucks to perform a cold start. Choosing 1-D fuel gives you more cetane within the mixture, which leaves less room for wear and tear on engine batteries. Especially during colder months, diesel engines operate smoothly using #1 diesel fuel. A common type of wax, paraffin, included in other grades of diesel fuel is not included in #1 diesel.
Added Lubricants and Detergents
One of the reasons #1 diesel is more expensive than other varieties is that it contains added lubricants. Therefore, you can feel confident using a premium diesel mixture, as they have solutions that allow fuel system parts to function seamlessly. Limiting the amount of friction or stress on internal fuel system components helps increase vehicle life expectancy. Also, #1 diesel contains detergents that prevent the buildup of sediment from interfering with performance.
Special Fuel Additives
The #1 diesel fuel type is recommended for fleets that drive in all weather conditions. These fuel mixtures have a series of fuel additives within them to minimize downtime — select additives like demulsifiers in #1 diesel keep traces of water out of the fuel supply. Eventually, the emulsified water can be filtered and removed from the fuel system. As a result, truckers will not have to stop for repairs as often as they would.
Note that #1 diesel is effective in the fight against rust, too. Certain inhibitors in the mixture can slow the corrosion process for fewer leaks and headaches down the road.
#2 Diesel Fuel (2-D)
If you pull into any refueling station, the chances are that #2 diesel fuel is available for purchase. This diesel fuel grade is widely sold throughout the United States. In fact, you might already use #2 diesel since it is incredibly popular for automotive applications.
Prevent Overheating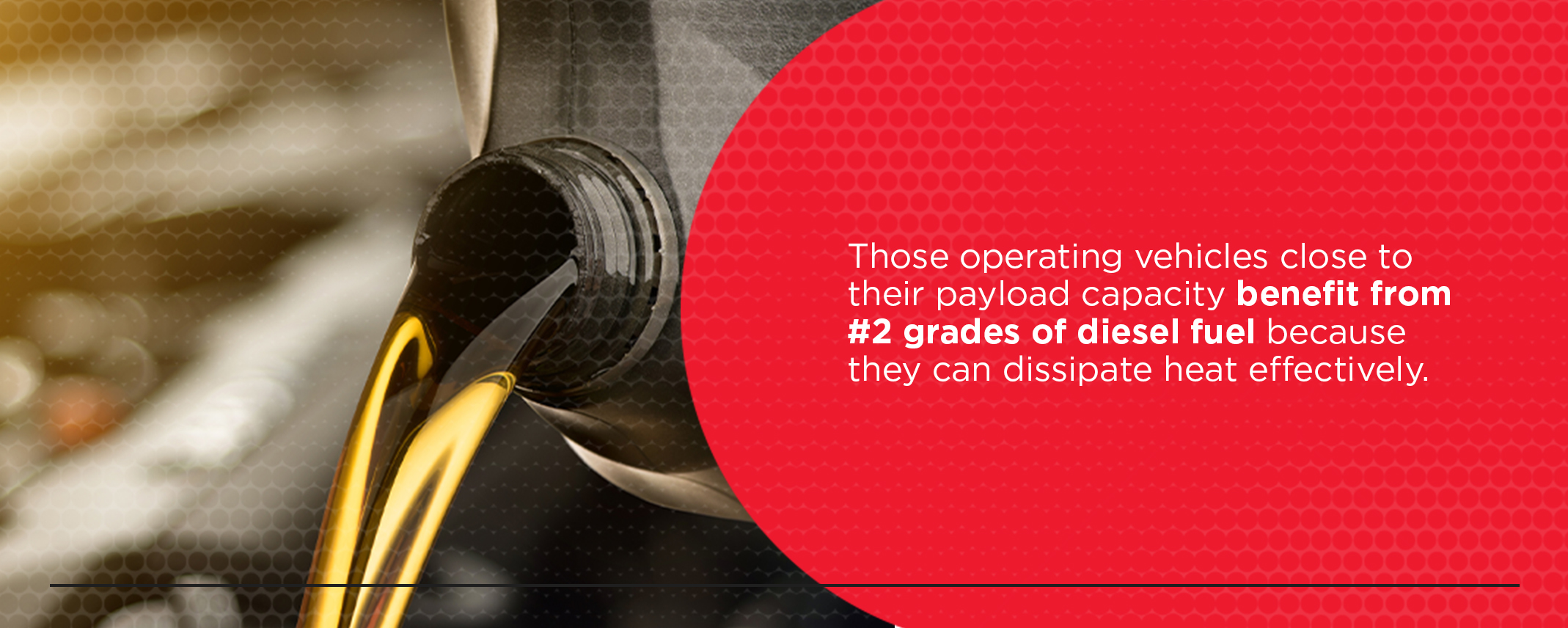 The No 2 diesel mixture has a higher viscosity compared to No 1 diesel. Those operating vehicles close to their payload capacity benefit from #2 grades of diesel fuel because they can dissipate heat effectively. Whether outside temperatures are hot or you are scheduling long transit routes, #2 diesel is a fantastic option.
More Affordable Than #1 Diesel
When it comes to affordability, drivers save at the pump when their vehicles take 2-D fuel. The fuel type is produced with fewer refinement stages than other types of diesel fuel, which means it can be sold for a lower price.
Keep in mind that you may experience harsh starts during the colder months with #2 diesel. If possible, keep commercial trucks in temperatures above 32 degrees Fahrenheit to prevent mixtures from turning into thick gels inside the fuel tank.
The Standard for Diesel Fuel
View diesel #2 diesel as the standard fuel grade. A #1 diesel solution may contain additives and lubricants, but #2 diesel has the major selling point of accessibility — you can get from point A to point B for the best price. Additionally, drivers see more consistent performance with #2 diesel. The solution is less volatile than #1 diesel, so you can expect better fuel economy.
#4 Diesel Fuel (4-D)
The #4 diesel fuel is for low- or medium-speed engine builds. This is a blend of distillate fuel oil and residual fuel oil.
Complete Jobs With Consistent Payloads
In commercial trucking, fleets that use 4-D fuel are somewhat rare. Therefore, you should already be using #4 diesel fuel if necessary. If you need more information about the best fuel grades for your model, take a look in the owner's manual.
A vehicle using 4-D fuel moves at consistent speeds bearing the same amount of weight for most trips. As a result, engine stability is the main focus for commercial trucks that use #4 diesel fuel for power.
Is There a Difference in Diesel Fuel Quality?
As you can see, diesel fuel is used for diverse applications — you may be wondering whether one of the diesel fuel grades is better than another or if you should stick to using one type of diesel fuel for all of your commercial trucking efforts. The short answer is no. All diesel fuels have a fair share of advantages over others. In order to see certain benefits, various refinement procedures are completed for the desired quality.
What is the difference between #1 and #2 diesel?
2-D fuel performs well in high-temperature environments due to its thin consistency. At the same time, it is prone to freezing. Similarly, 1-D fuel is well-known for having lubricants and detergents within its makeup, but 2-D fuel may provide better fuel efficiency in the warmer months.
Knowing the benefits of different grades of diesel fuel helps you to strategize throughout the year. In fact, #1 and #2 diesel fuels can even be combined to give drivers the best of both worlds.
Contact SC Fuels for Wholesale Fuel Delivery Services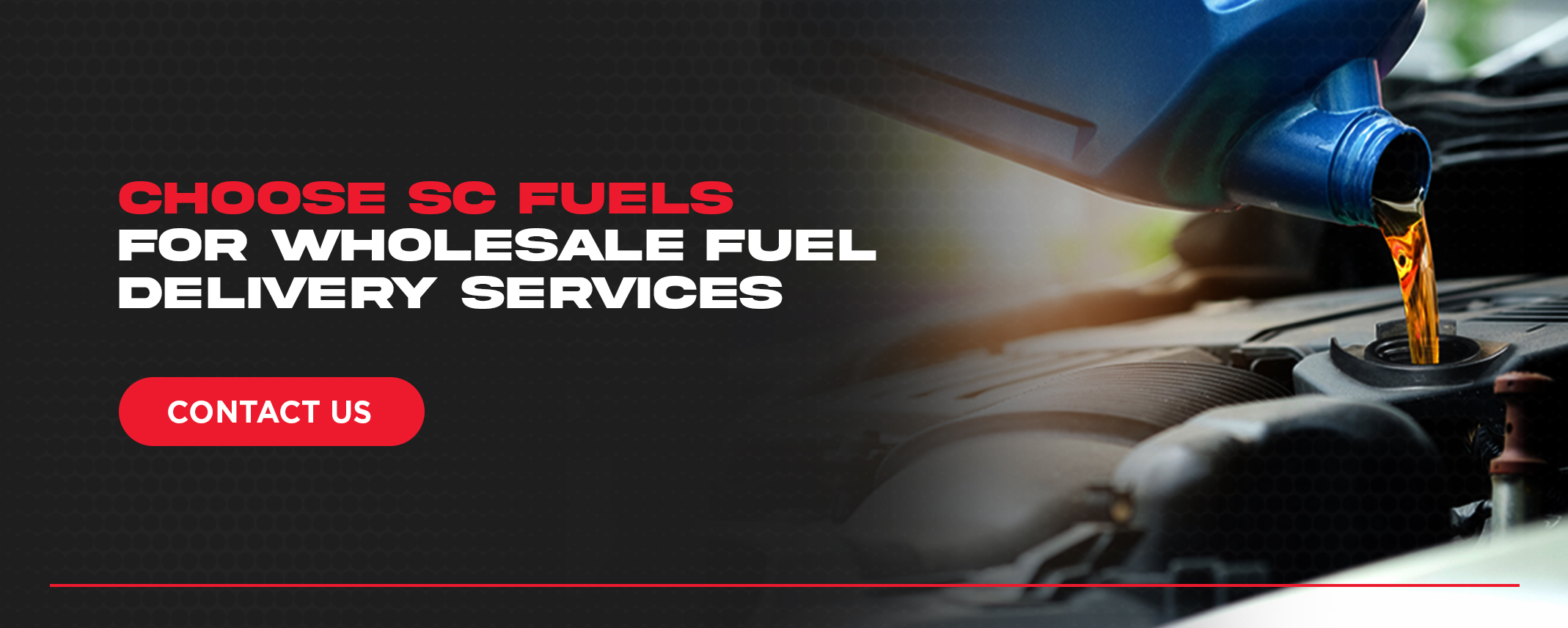 Regardless of the grade you use, diesel fuel keep your fleet up and running. If you are searching for a single-source fuel supplier, you can look to SC Fuels for your needs. Our professionals specialize in wholesale fuel deliveries, and we provide exceptional customer service for you 24/7/365. All of our drivers are dedicated to getting you the petroleum-based products you require for repeat success. Not to mention, we ensure your fuel delivery suits your budget.
We work with professionals in most parts of the U.S. for convenience. Learn more about our bulk fuel delivery services online and contact us with questions by calling us at (888) SCFUELS or filling out a form today.