What Is Octane?
Octane is a flammable hydrocarbon of the alkane series, obtained in petroleum refining. That's a long way of saying a higher octane rating means a higher explosion point. That also means you want more of it for your combustible engine. Octane numbers tend to change as additives improve and the quality of oil refining increases. One way to track the type of octane you're using is to check its octane rating, which is the level at which your vehicle's fuel will combust.
Let's dive into the octane-fueled rabbit hole that is fuel quality.
How Do Modern Combustible Engines Work?
To better understand how fuel ratings and octane numbers work, let's look at how the modern combustible engine functions.
High-pressure chambers in your engine are constantly filling with vapor and combusting to produce the energy needed to keep your vehicle moving down the road. This vapor is highly pressurized fuel from your vehicle's gas tank. Fuel combustion can occur at different times during your cylinder's rotation, depending on the octane level and fuel quality.
Combustion is vital to an engine's efficiency, as misfires — what happens when the internal combustion occurs at the wrong time — mean the rotation isn't producing any energy. The igniting point of all the fuel is about 4,500 degrees Fahrenheit — about 2,500 degrees Celsius. This number is crucial to your car ignition's internal equation.
Now that we know how combustion engines work, what part does our vehicles' fuel play? Read on to learn more about what fuel quality means for your engine.
3 Types of Octane Ratings
Octane ratings are also called gas grades or gas octane ratings. Your fuel's octane rating is an average of two separate ones — the motor octane rating (MOR) and research octane rating (RON) — which tell you at what level of pressure the fuel will combust. High octane fuel is more stable than low octane variants.
The average gas station offers octane in each of the three ratings, which should be displayed with a yellow sticker on or near the gas pump:
Regular: A very common question we get is, "what is the octane rating of regular gas?" Regular octane fuel has a rating of 87. Because most vehicle engines are designed with this octane rating in mind, fueling with anything lower can negatively affect your engine. If fuel ignites earlier in the cycle, the piston could be pushed down while rising, potentially causing long-term damage to it and, in turn, your engine.
Mid-grade: Mid-grade octane is either 89 or 90. Mid-grade octane can withstand more heat and pressure than regular octane before igniting, meaning your internal combustion engine (ICE) should make the most use of the vapor in its chambers.
Premium: Premium octane falls between 91 and 94, averaging at about 93. Premium octane typically costs more than mid-range, and mid-range costs more than regular.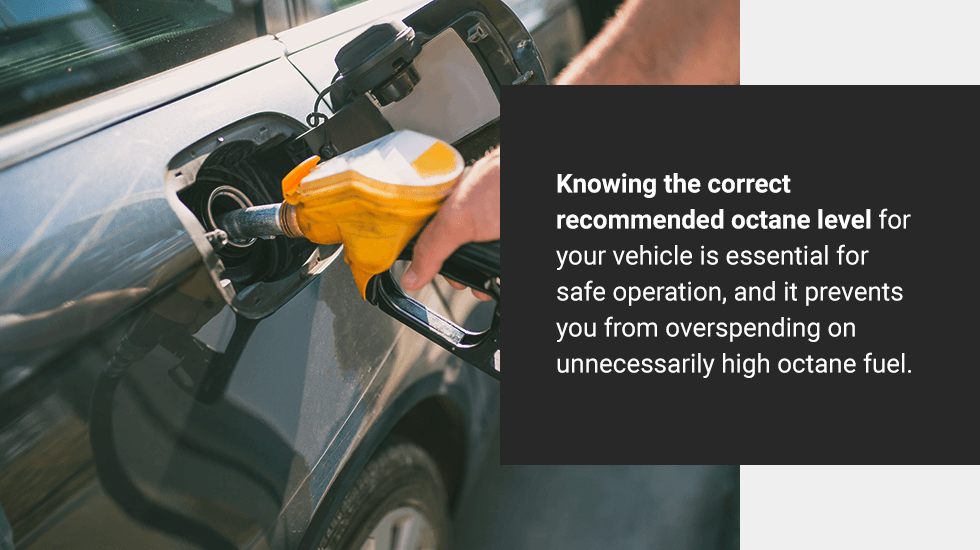 What Octane Should I Use for My Car?
Knowing the correct recommended octane level for your vehicle is essential for safe operation, and it prevents you from overspending on unnecessarily high octane fuel. While most standard cars use regular octane, automobiles with high-compression engines may need something more.
If you're not sure which type of octane is best for your car, you can:
Consult the manual: Your vehicle's operator manual should include an octane rating recommendation from the manufacturer.
Ask a technician: An auto technician can usually tell you what type of fuel is best for your car based on its type, model, and make.
Listen to the engine: Listen to your car's engine and note any knocking. Knocking occurs when your engine isn't burning fuel adequately or evenly. If it doesn't knock when you use the recommended octane, you're using the right grade of gasoline.
Is Higher Octane Gas Better?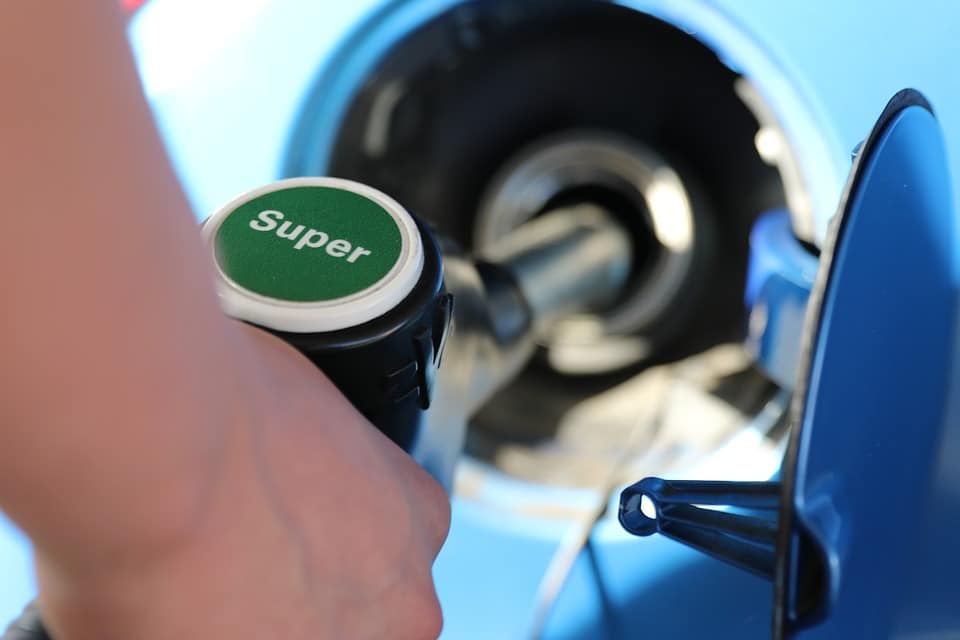 One type of fuel is not better than the other — just more suitable for your specific engine. There are no benefits to putting mid-range or premium octane fuel in a vehicle rated for regular octane. Higher octane gasoline will not clean your engine or improve your vehicle's performance. However, using a lower octane than recommended may damage your engine. Always follow manufacturer or professional recommendations.
That said, higher octane fuel is better for the environment. As your vehicle burns fuel, it produces carbon dioxide (CO2) emissions, which contribute to climate change and acid rain and may negatively impact human health. CO2 was responsible for more than 80% of all greenhouse gas emissions in 2018. By using up more of the fuel in the chamber, your vehicle produces fewer emissions from the ignition. A 2014 study from MIT suggested that higher octane fuels could cut our annual CO2 emissions by 35 million tons.
Does a Higher Octane Fuel Improve Fuel Economy?
Besides the environmental benefits, higher octane fuel also creates more energy per rotation than standard fuel. This characteristic may positively affect your vehicle's fuel economy if you have a higher-compression ratio engine.
Will Knocking Damage My Engine?
While occasional engine knocking is normal, persistent or worsening knocking is not. Using the incorrect fuel for your vehicle may cause knocking, but various other factors could contribute, including:
Carbon buildup inside the cylinder.
Incorrect or damaged spark plugs.
A broken fuel injector.
Schedule an appointment with an auto shop if you experience excessive knocking.
Is There a Difference Between Gas From Different Brands?
Gasoline is either branded or unbranded. Branded fuel is from a well-known gasoline supplier, like Marathon or Shell. Unbranded fuel comes from any unbranded or lesser-known manufacturer.
The primary difference between branded and unbranded fuel is what types of additives are in the gasoline and how much of those are present. Your vehicle will run successfully on either type of fuel. Branded fuel typically has more additives, some of which keep your engine components cleaner and free of buildup. Expect to pay more for additive-infused branded fuel at the gas pump. While unbranded fuel does contain fewer additives than branded fuel — sometimes none at all — it is a more cost-efficient option.
Beyond brand differences, each state has its own requirements for labeling fuel as either regular, mid-grade, or premium.
Is Higher Octane Better For The Environment?
You may be wondering what octane and fuel quality mean for your internal combustion engine (ICE)? Well, to begin with, higher octane has a very positive effect on the environment. By using up more of the fuel in the chamber less emission is produced from the ignition. More used = less released. A study from MIT in 2014 even suggests that higher octane fuels could cut our annual CO2 emissions by 35 million tons. Besides the environmental benefits, higher octane fuel puts out more energy per rotation than standard fuel meaning that your vehicle's fuel economy is positively affected.
Which Octane Is Right For My Vehicle?
Now that we understand the use and benefits of higher octane fuels let's go back and re-visit those numbers on the pumps 87, 89, and 93. 87 is standard fuel. That is all. In actuality 87 is the standard octane rating that all gas stations provide. Because most vehicle engines are designed with this octane rating in mind, fueling with anything lower can negatively affect your engine. If fuel is ignited earlier in the cycle then the piston could be pushed down while it is rising, potentially causing long-term damage to the piston and in turn your engine. 89, and 93 are designed to withstand much more heat and pressure before igniting, meaning that you're ICE should be able to make the most use of the vapor it has in its chamber.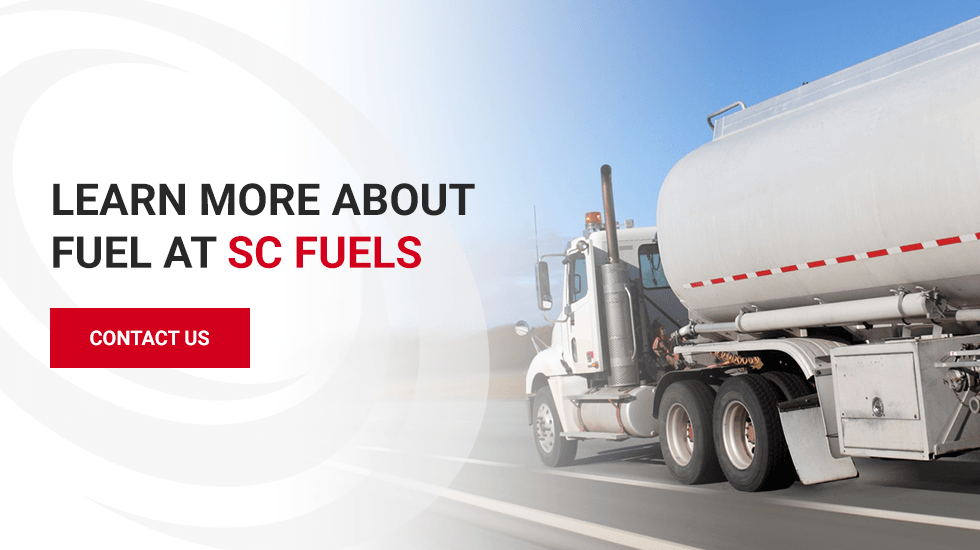 Learn More About Fuel at SC Fuels
As one of the oldest and largest petroleum businesses in the country, SC Fuels is your go-to for gasoline, diesel fuel, alternative fuel, or petroleum product services. We can deliver your branded or unbranded petroleum to an on-site location or via our extensive map of fleet card services. When you partner with us, you get competitive pricing backed by safe, on-time delivery and attentive 24/7 customer service.
Contact us to learn more about our services and subscribe to our newsletter to get more fuel tips, tricks, and industry insights delivered to your inbox.
Now that you know about gas octane ratings, will you be changing how you fuel your car? Read our ultimate guide to fuel prices for more fuel information. If you found any of the information in this article useful, consider subscribing for more fuel news. Thank you for reading and we look forward to helping you!