For commercial businesses, tracking fuel spending is an essential task. The challenge is that this process can also be wildly complicated and performed inefficiently. Keeping tabs on drivers, fleets, and fuel consumption can devolve into piles of invoices, unbalanced accounts, shoddy documentation, and even misuse of company resources.
Fortunately, there is a way to streamline the entire process, keeping owners, managers, and drivers happy and well-informed. It is called the SC Fuels Commercial Fleet Card Program, and it can transform the way fleets manage their fuel expenditures.
What Is SC Fuels' Commercial Fleet Card Program?
The SC Fuels Commercial Fleet Card program is an all-in-one fueling card with access at cardlocks, retail, and truck stops. Instead of juggling multiple cards, drivers can keep one card on hand while owners can account for every ounce of fuel purchased and used. 
A Tool for Business Owners
The SC Fuels Commercial Fleet Card comes with backend features that help fuel-reliant businesses run smoothly and efficiently. The program gives robust controls to fleet managers and business owners, including features like: 
Driver, department, or fleet profiles for individualized management.
Per day gallon and transaction limits.
Day-of-the-week and time-of-day controls.
Product controls at cardlock locations.
E-receipts for extra security and email verification.
Diesel Exhaust Fluid (some locations).
Dyed diesel (some locations).
Dual and high-fuel pumps.
Unleaded
24-hour access.
Supervising drivers and fleet workers can be problematic, especially across many trucks and routes. With these kinds of tools, business owners can make important, informed decisions while ensuring policy enforcement is efficient and painless.     
Account Features
The SC Fuels Commercial Fuel Card Program gives businesses unparalleled access to managing employees and purchases. Account information is available online 24/7. Owners and managers can handle fuel usage and expenditure, especially with the single, detailed invoices compiled for fleets and drivers. With this kind of connection, cardholders can manage their account, such as:
View transactions and authorizations.
Validate and invalidate cards.
Create custom reports.
Download transactions.
This integrated system can help manage costs, prevent misuse, catch inefficiencies and collect valuable data. It can also help keep things compliant by restricting what and when they purchase, ensuring that they abide by company rules.
What Is an SC Fuels Cardlock?
SC Fuels Cardlock locations are sites reserved solely for commercial cardholders and are not all for public use. In several key ways, they operate differently than retail fueling stations. First, they are unmanned fueling stations designed for all commercial vehicle classes including 18-wheel accessibility.  Large ingress and egress points make accessing the site easy.  Hi-flow diesel dispensers ensure that drivers are able to fuel and get back on the road quickly and safely.  Other highlights include:
Diesel.
Diesel Exhaust Fluid (some locations).
Dyed diesel (some locations).
Dual and high-fuel pumps.
Unleaded
24-hour access.
One of the best features of cardlock locations is their sophisticated product controls. While a retail card can report misuse after the fact, a SC Fuels Commercial Fleet Card will prevent the purchase from even taking place. So if a cardholder is restricted to diesel purchases and not gasoline, the card won't even work if swiped for a gas purchase but functions perfectly fine on a diesel purchase.
SC Fuels Commercial Fleet Cards are limited to per-gallon limits at cardlock stations instead of the dollar limits at retail sites, something important to keep in mind for drivers that need to oscillate between cardlock locations and participating truck stops. There is also a difference in pricing, which we will cover in a later section.
Who Uses the SC Fuels Commercial Fleet Card Program?
Any commercial business can benefit from these special features and savings. Trucking companies, manufacturers, distributors, and contractors tend to take full advantage of the program's perks. The SC Fuels Cardlock stations accommodate large machinery and offer plenty of diesel pumps, which truckers, manufacturers, and distributors often need.
Contractors can acquire dyed diesel for their off-road construction equipment, such as bulldozers and excavators,  as can commercial farmers and heating oil suppliers. Still, any company that wants to purchase and track substantial amounts of fuel, such as $1,000 a month or more, can find value in the SC Fuels Fleet Card.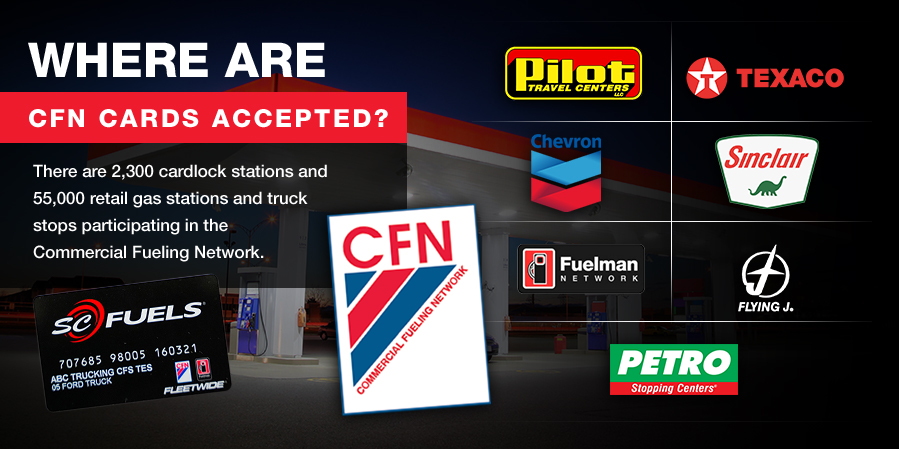 Where Are the SC Fuels Cards Accepted?
SC Fuels has 47 cardlock stations, and the cards are accepted at thousands of retail gas stations and truck stops. The network originated on the West Coast, where cardlock fuel stations became the best fuel source for companies. Space for building more significant stops and stations was severely limited, so the unmanned cardlock sites became increasingly popular. In addition to cardlock sites, there are several retail brands that accept Fleetwide cards:
Pilot
Texaco
Chevron
Sinclair
Fuelman
Flying J
Petro
What Price Do You Pay at SC Fuels Stations?
Pricing varies depending on the type of station you use, whether it is a cardlock or a retail station. While retail fuel stations can be convenient for routes, their prices are subject to the posted pump prices. On the other hand, cardlock stations do not offer prices at the pump. They operate under a cost-plus network, which is a wholesale structure.
Since fuel prices are not static and vary in retail locations across the country, it is impossible to share exact prices for either option. Still, since cardlock sites are network regulated, you are guaranteed consistently competitive pricing regardless of what region your fleets fuel up. That means you can stop worrying about drivers stopping at the priciest place in town or going far out of their way to find the best prices. The price of diesel can be 10 to 20 cents cheaper than the average retail fuel price, while gasoline tends to run five to 10 cents cheaper. But how can we offer discounted rates, regardless of location? Let us take a closer look at the pricing model. 
Pricing Model
The SC Fuels pricing model has five parts: the product cost, freight cost, network station interchange, provider's margin, and tax.
Product cost: The cost is based on the average rack price when determining product price. A rack is where big tankers pick up fuel to distribute to gas stations. SC Fuels utilizes Oil Price Information Services (OPIS) average rack prices to determine the sourcing cost for its fueling stations. 
Freight cost: Next, SC Fuels calculates the number of miles between individual SC Fuels sites and their closest rack location to determine freight expenses and compensate for fuel transportation.
Tax: Any applicable state and federal taxes.

Benefits of Using an SC Fuels Fleet Card
Becoming an SC Fuels customer helps you save on fuel costs while efficiently tracking your expenses. Those two significant benefits alone may be enough to convince you to participate with a card provider. If you are still not sold on joining SC Fuels, here are some additional benefits that may change your mind. 
Convenience
With year-round, 24-hour access to thousands of locations, you can ensure that your drivers have a reliable, route-friendly place to stop and fuel up. With equally accessible online management tools, you can adjust cards on the fly, instantly compile invoices, and manage an entire fleet's worth of cardholders. Plus, card providers like SC Fuels offer the convenience of cardless swipe technology. 
Cardless Swiping
Now, drivers can download and access their cards via a mobile app on their smartphones or tablets, making purchases safer, cleaner, and more efficient. Without the need to swipe a card in a card reader, drivers can fuel up from the comfort of their cab. Simply open the app, answer a few security questions, wait for approval, and begin fueling!
Cardless swiping goes beyond convenience. It is also a more secure transaction that prevents skimming; technique thieves use to swipe personal and financial information through unseen attachments to the internal wiring of fuel pumps. This type of theft costs businesses over $1 billion each year, making cardless technology a convenient safety precaution.
Control
The backend controls are one of the most defining features. Your business will not need to hunt down invoices or micromanage drivers that stop at expensive fueling sites at unpredictable intervals. With these backend features, you can create individual IDs for each driver and monitor individual spending while also managing universal gallon or transaction limits.
Other highlights are:
Personalized profiles for drivers, departments, or fleets.
Per-day transaction and gallon limits.
Time controls.
Exception reporting by card and account.
E-receipts, tracking, and email verification.
With this kind of data tracking, you can catch inefficiencies, plan new routes, or enforce money-saving policies that take your business to new heights. Your accounts will thank you, and your drivers will not need to keep tedious log books that leave room for error. 
Access to Cardlock Sites
While we have covered the many benefits of using cardlock sites, let's recap some of the highlights:
Controlled, discounted fuel prices.
Products your fleet needs, like dyed diesel and DEF.
Designed for large, commercial vehicles.
Free from non-retail traffic.
Card benefits like gallon limits and quality control.
Customer Service
24/7 Customer Service
Dedicated Account Management Team
Multi-Language Capability
Site Attendants
Customization
SC Fuels can create a custom, cost-efficient and productive fleet management plan that keeps your drivers organized and your business running smoothly. SC Fuels offers thousands of fuel locations and a variety of card options. We use these options to design effective solutions for both small businesses and large companies.
With a customized plan, fleet fueling becomes easy for owners, managers, and drivers, providing specific, user-friendly locations to accommodate vehicle sizes and fueling needs. Customization instills confidence in the quality and convenience of fuel stops while providing all the robust control features designed to make the CFN indispensable to your business.  
Your SC Fuels Dedicated Account Manager can customize a plan to meet your specific fueling needs. Customization instills confidence in the quality and convenience of fuel stops while delivering all the robust control features designed to make the CFN indispensable to your business.
Can Anyone Get an SC Fuels card?
Qualified candidates will need to own a company, large or small, and have good credit. There are not any membership maintenance fees or minimums, such as minimum monthly purchases or fleet sizes, so whether you coordinate hundreds of vehicles or thousands, it is possible to benefit from an SC Fuels card! Contact SC Fuels' customer service team who will answer your questions and guide you through all the features you are acquiring as an SC Fuels cardholder. 

Learn More About SC Fuels' Fleet Card Solutions
SC Fuels is a third-generation, family-owned business that puts our customers first. Since 1930, our members have trusted us to provide quality fuel card services, including CFN membership and more. We are honest and reliable partners dedicated to helping your business thrive and access cost-effective and efficient fueling stations to keep you and your drivers happy. Do not miss out on our competitive prices, unparalleled service, and reliable support team. 
To learn more about SC Fuels' fleet card solutions, call us at (888) SCFUELS (723-8357) ext. 6001 or fill out our online form to get started on your application today!