The IEA (International Energy Agency) has published their yearly Global energy report and it is showing some interesting developments, market changes, and growth. Today we will explore the data that is presented in the report, and detail as closely as we can. The report was published in March of 2018 with data that has been aggregated from different sectors of the energy industry. The report's key findings are as follows:
Global energy demand has increased by 2.1% in 2017, compared to 0.9% in 2016 following the trend of global increase of .9% for the last 5 years.
Global energy-related CO2 emissions grew by 1.4% in 2017, reaching a historic high of 32.5 gigatonnes (Gt)
Global natural gas demand grew by 3%
Global coal demand rose about 1% in 2017, reversing the declining trend seen over the last two years.
World electricity demand increased by 3.1%, significantly higher than the overall increase in energy demand
Global Energy Demand
According to the IEA report, global energy demand grew by 2.1% more than twice the growth rate of 2016 and the prior 5 years. Fossil fuels met 70% of the growth in energy growth all around the world. Natural gas demand increased to a record share of 22% in total energy demand and finally nuclear accounted for 2% of the growth.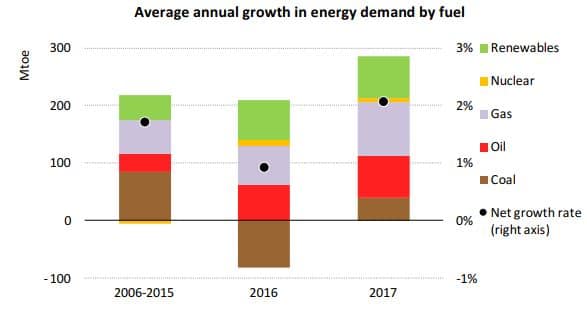 CO2 Emissions
According to the report "Global energy-related Co2 emissions rose by 1.4% in 2017, an increase of 460 million tons (Mt) and reached a historic high of 32.5 Gt." Last year's growth came after three years of flat emissions and contrasts with the sharp reduction needed to meet the goals of the Paris agreement on climate change."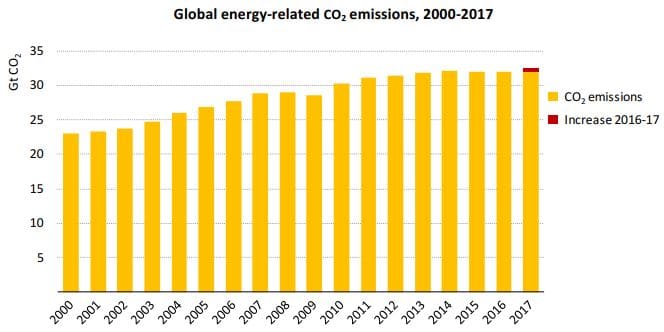 The increase in carbon emissions is a direct result of the 3.7% global economic growth, lower fossil fuel prices, and weaker energy efficiency efforts. These three factors were the main contributors to pushing up global energy demand by 2.1%, however, the emission growth trend was not universal. Although many major economies saw a rise in carbon emissions, some others experienced declines, such as the United States, the United Kingdom, Mexico, and Japan.
Of all of the countries in emission decline, the biggest came from the United States by 0.5% or 25 million tons of CO2, marking the 3rd consecutive year of emission decline. In the United Kingdom, emissions dropped by 3.8% or 15 million tons to 350Mt, the lowest level on record since 1960. A continued shift away from coal towards gas led to a 19% drop in coal demand in Mexico, and emissions dropped by 4%.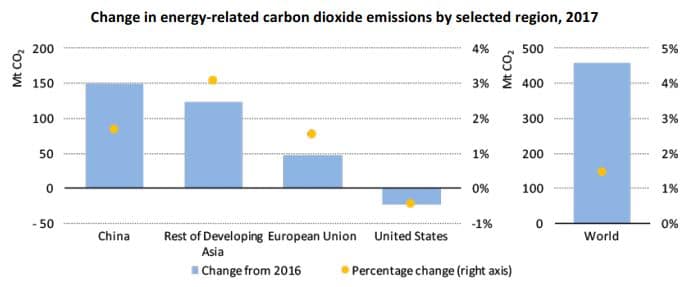 Global Oil demand has risen by 1.5 million barrels a day (MB/d) since 2016. Since the price of oil dropped in 2014 there has been a trend of strong growth. The rate of growth in 2017 was 1.6% was much higher than the average annual growth rate of 1% seen over the past decade.
The IEA report contains more information on emissions and alternative energy statistics. You can find the full report here. We hope you have found something valuable in our summary of the IEA report. If you would like to see more content that pertains to energy, oil, and our industry then consider subscribing to the SC Fuels blog.